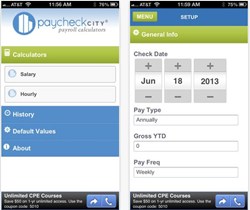 We hope that our new and improved app will make it easy for users to check the accuracy of their take home pay on payday and also start to proactively manage their paycheck settings."
Scottsdale, AZ (PRWEB) August 07, 2013
The PaycheckCity App 2.0 allows users to calculate their take-home pay in advance of payday. Users can run "what if" scenarios on the app to see how adjusting deductions might impact their net pay. Expecting a baby? New Job? Change in benefits? Adjusting a 401k? All these things can impact an individual's take-home-pay. With the PaycheckCity App 2.0 users can calculate net pay or take-home-pay by entering per-period or annual salary along with the pertinent Federal, State, and local W-4 information into the basic payroll calculator. The PaycheckCity app can save up to 20 previous calculations for easy reference between different scenarios. Living in a state with local taxes? Simply use the location feature of a smart phone to pinpoint taxes precisely or enter an address to get the proper results based on location.
In addition to the ability to save different scenarios, PaycheckCity App 2.0 offers users the ability to save default values such as pay frequency, filing status, allowances, and any additional withholding or deductions. This enhanced feature over the original PaycheckCity app makes subsequent paycheck calculations quicker and easier.
The PaycheckCity App 2.0 is available for free on both the App Store for the iPhone and iPad and Google Play for Android devices. In addition, individuals can try the app out on PaycheckCity.com to get a feel for setting up your default values prior to making a calculation. Software engineer Billy Long who designed and built the original and 2.0 versions of the PaycheckCity app says, "We hope that our new and improved app will make it easy for users to check the accuracy of their take home pay on payday and also start to proactively manage their paycheck settings."
To download the PaycheckCity App 2.0, visit Google Play or the App Store. Symmetry Software and PaycheckCity welcomes users' opinions via the feedback and rankings.
About Symmetry Software
Founded in 1984, Symmetry Software specializes in payroll and payroll-related withholding tax software applications for the Internet and corporate intranets. Based in Scottsdale, Arizona, Symmetry runs four payroll-related Web sites:

PaycheckCity.com: Offers employees self-service tools for paycheck management including free personal finance calculators. Individuals can model "what-if" scenarios using wages and other paycheck figures to determine the impact on take-home pay.
StateW4.com: Online form-preparation process for federal, state, and local withholding forms.
Payroll-Taxes.com: A payroll research library for industry professionals, including free paycheck calculators and a paycheck community message board.
Payroll-Point.com: The latest mapping technologies deliver appropriate tax withholding settings based on the home and work addresses of an employee.