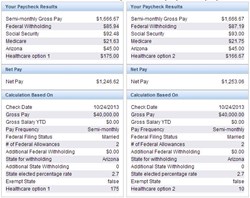 Scottsdale, AZ (PRWEB) November 11, 2013
Using PaycheckCity's dual scenario calculator to compare take-home pay for different benefit options, users of the PaycheckCity calculator enter their gross salary, pay type, pay frequency, federal filing status, number of federal allowances, and any additional federal withholding into the left side of the calculator. They then enter state and local specific information before moving on to the voluntary deduction section. This section is where individuals interested in comparing healthcare options would enter the deductions they would expect to have under their health plan. For example, a user could enter a fixed amount deduction of $175 per paycheck for a health plan. Next, this user would follow the same procedure on the right side of the calculator only adjusting the voluntary deduction section to represent the other health plan in consideration. For pre-tax deductions, users must check the boxes for any taxes from which the benefit is exempt, such as federal, fica, state, or local taxes, for the calculation to run accurately. By clicking the "calculate" button, the two paycheck results are displayed side-by-side for easy comparison.
The Dual Scenario Calculator is available in both a salary calculator and an hourly calculator. In addition, PaycheckCity offers seven other paycheck calculators for personal use in running what-if scenarios to determine the impact on take-home pay. Visit http://www.paycheckcity.com to learn more.
About Symmetry Software
Symmetry Software simplifies the payroll process with our dependable and accurate payroll withholding tax solutions. Our team of software engineers and taxation experts provide innovative, regulatory compliant payroll software products including the Symmetry Tax Engine®, Symmetry Payroll FormsTM, Payroll Point®, and PaycheckCity® calculators. Since 1984, Symmetry Software has been helping clients get the right taxes, the first time.