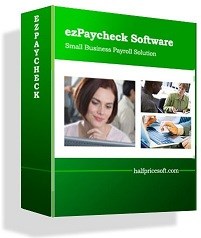 Any business with multiple product lines or projects or rotating shifts can make use of this new feature while saving a great deal of time and money on payroll tasks.
Atlanta, GA (PRWEB) July 27, 2013
Sales of ezPaycheck payroll software from Halfpricesoft.com are up 60% in 2013 over previous year sales due to the addition of new features requested by many customers and potential users. Three of the new features in particular addressed the needs of several industries and enabled them to take advantage of affordable, easy-to-use payroll automation through ezPaycheck.
Added to the 2013 edition of ezPaycheck, the capability to assign differing pay rates to different shifts or jobs for each employee seems to have impacted sales the most. This feature was requested by many customers who pay differing rates for different shifts or for different assignments or projects and whose employees may work two or more shifts or jobs in a pay period. For example, an employee may work first shift for a week and third shift the following week, with a $2 shift differential, during a two-week pay period. EzPaycheck 2013 easily calculates that employee's paycheck by applying the appropriate pay rate for each shift and the number of hours worked in each shift.
"This new feature of ezPaycheck 2013 is very popular among businesses such as security firms, temporary employment firms, contractors with multiple jobs going at the same time, and manufacturers," said Halfpricesoft.com founder Dr. Ge. "Any business with multiple product lines or projects or rotating shifts can make use of this new feature while saving a great deal of time and money on payroll tasks."
Two other features added in 2012 have also contributed greatly to this year's boost in sales. Like the multiple pay rate feature, flexible options for deductions and payment types were requested by many users of ezPaycheck. EzPaycheck 2013 lets users assign non-standard deductions to an employee's paycheck, such as taxes unique to specific states or cities, like California's SDI (state disability insurance) tax. Payment type options are useful for businesses that pay by the piece or by the job or who employ subcontractors and need to assign a payment type other than hourly or salary.
Small businesses will appreciate the unique features in the latest release of ezPaycheck payroll software:

Supports daily, weekly, biweekly, semimonthly and monthly payroll periods. Features report functions, print functions, and pay stub functions.
Easily calculates differential pay.
Prints miscellaneous checks as well as payroll calculation checks.
Prints payroll checks on blank computer checks or preprinted checks.
Automatically calculates Federal Withholding Tax, Social Security, Medicare Tax and Employer Unemployment Taxes.
Includes built-in tax tables for all 50 states and the District of Columbia.
Creates and maintains payrolls for multiple companies, and does it simultaneously.
Prints Tax Forms 940, 941, W-2 and W-3.
Supports multiple accounts at no additional charge.
Supports network access.
Priced at $89 for new customers ($59 for 2012 customers), ezPaycheck payroll software is affordable for any size business. To start the no obligation 30-day test drive today, please visit http://www.halfpricesoft.com/index.asp
About Halfpricesoft.com
Founded in 2003, Halfpricesoft.com has established itself as a leader in meeting and exceeding the software needs of small businesses in US. The software's graphical interface guides customers step-by-step through setting up employee information, setting up tax options, calculating payroll - including calculation of federal, state and local taxes; deductions for Medicare, insurance and 401(k) plans; and printing paychecks & tax forms.