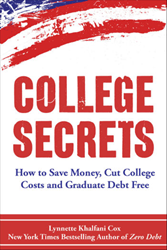 Getting a college degree is part of the American Dream, but it shouldn't put students and their parents in the poorhouse.
New York, NY (PRWEB) October 14, 2014
As the cost of college in the U.S. continues to escalate, so does student loan debt, which currently tops $1.2 trillion.
"Getting a college degree is part of the American Dream, and it shouldn't put students and their parents in the poorhouse," says Lynnette Khalfani-Cox, author of College Secrets: How to Save Money, Cut College Costs and Graduate Debt Free(Advantage World Press; October 2014).
In College Secrets, Khalfani-Cox reveals all the "hidden" costs of higher education, which add up to many thousands of dollars annually. Then she discloses little-known strategies to eliminate or reduce these and other expenses – as well as hundreds of money-saving ideas to help families avoid massive student loans.
College Secrets is the flagship book in a new series on controlling college costs. The companion book in the series, to launch in November 2014, is called College Secrets for Teens: Money-Saving Ideas for the Pre-College Years.
College Secrets turns conventional wisdom on its head in numerous ways.
For example, even though the author reveals 24 tricks to slash in-state and out-of-state tuition costs, she also suggests that families should stop worrying so much about tuition and fees, and focus instead on other hidden or "back-end charges" such as "sucker fees," lifestyle costs and so-called "one-time" school expenses.
Khalfani-Cox further explains why parents are unwittingly adding to the college pricing frenzy. And she takes both public and private institutions to task for their role in driving college costs to astronomical levels.
College Secrets is the book that all college students and their parents need to have – especially because it lays bare the financial aspects of higher education that college officials never talk about.
NOTE FOR MEDIA AND EDUCATORS:
Lynnette is available for print, online, radio and TV interviews. Members of the media and educators interested in an excerpt of College Secrets or a review copy of the book should contact Earl Cox at earl@themoneycoach.net or 908-955-3328.
About Lynnette Khalfani Cox
Lynnette Khalfani-Cox, The Money Coach®, is a personal finance expert, television and radio personality, and the author of numerous books, including the New York Times bestseller Zero Debt: The Ultimate Guide to Financial Freedom. Lynnette is a former Wall Street Journal reporter for CNBC, who now teaches individuals nationwide how to better manage their finances. Follow Lynnette on Twitter @themoneycoach or learn more about Lynnette at AskTheMoneyCoach.com.