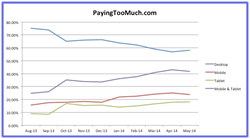 The rise and rise of the mobile device for browsing the Internet is becoming increasingly important, says PayingTooMuch.com Managing Director Michael ward, but is this a good thing?
Chichester, UK (PRWEB UK) 31 May 2014
PayingTooMuch.com have published their analytics data for organic clicks into PayingTooMuch from August 2013 (the date from which Google made the data available via analytics), which shows the continuing rise in mobile device use for browsing the Internet.
In fact over the last 10 months device traffic has increased by 75%, "a rise that shows no sign of stopping anytime soon," says Ward.
This has a profound impact for companies and website designers who will be maxing out in an attempt to rebuild systems that have until recently been working well for years, so they look better on a small screen.
A quick check on current progress shows there's some catching up to do. A search for 'life insurance' on Google this week shows MoneySupermarket and Aviva paying the most for a mobile click on an iPhone, but both click through to the old desktop journey.
"The first business to crack the mobile journey stands to benefit from the rising trend to use the smartphone over the desktop," continues Ward.
But does making your website look good on an iPhone mean the customer gets a better deal and fully understands what they're doing?
"There's two sides to this debate,"' says Ward. "Making your products more accessible is a good thing and if that means making them work on a small screen anywhere then so be it. There's little point having the best proposition when nobody knows about it."
Some say this will dumb down the solution leaving the customer worse off but the fully advised face to face process still exists where people want.
"For many, quick, simple, cheap and great customer service seems to be the order of the day," continues Ward.
PayingTooMuch.com are scheduled to launch the first "built for mobile" fully underwritten life insurance that offers immediate binding life insurance cover in the Autumn of 2014. For more information and to receive pre-launch information please email nifty(at)payingtoomuch(dot)com.