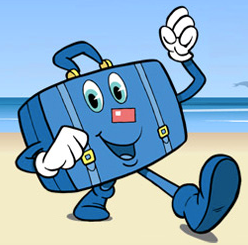 Don't drink too much on holiday! Alcohol tops the list of reasons for a trip to the medics on holiday says PayingTooMuch.com research.
Chichester, West Sussex (PRWEB UK) 31 May 2014
Most of us (nearly 7 in 10) drink more alcohol than usual or for longer periods of time whilst on holiday whether male or female. This is perhaps allowed as we're on holiday but 4 in 10 people actually suffer injury or illness because of it, with a staggering 69 per cent having to visit a hospital (72 per cent men, 64 per cent women).
Alcohol poisoning tops the list of reasons for a trip to the medics at 23 per cent followed by broken bones: arms, wrists, hands, hips, legs, knees, ankles and feet. 10 per cent of holiday makers have even broken their back or neck, according to a survey examining Brit behaviour whilst on holiday.
The independent research of 2,000 people, commissioned by comparison website http://www.PayingTooMuch.com, also found that in 72 per cent of cases drinking too much alcohol caused rows with partners or travelling companions, with 20 per cent no longer talking because of it.
Beth Macer, travel insurance expert at PayingTooMuch.com, commented: "Apart from the obvious health risks, this will also impact on your travel insurance as most policies won't cover claims where alcohol is a factor causing people to act in an irresponsible way. Travel insurance is designed to protect you, provided you take reasonable care to look after yourself and your belongings."
Half of those surveyed felt they developed an 'I'm on holiday' mentality when it came to taking risks or alcohol consumption with 34 per cent saying they had acted 'outrageously' on holiday (37 per cent men, 32 per cent women). 26 per cent even returned home only to regret their behaviour or alcohol consumption while away (27 per cent men, 24 per cent women).
44 per cent felt they did take more or bigger risks than they ever would at home (46 per cent women, 43 per cent men). 18 per cent of men and women said they went swimming after drinking alcohol, 17 per cent admitted having one night stands (21 per cent men, 13 per cent women), 12 per cent doing extreme water sports (same for men and women), and 9 per cent riding a moped without a helmet (10 per cent men, 8 per cent women).
Beth Macer added, "We are not saying don't enjoy your holiday but please remember the consequences if you have an accident doing something stupid which could be deemed irresponsible."