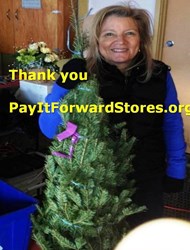 Give & It Shall Be Given unto You... Jesus
Los Angeles, California (PRWEB) December 17, 2013
PinHi Production's will host Christmas jazz benefit concert and fashion show to debut http://FreeSustainability.org's and http://PayItForwardStores.org 's donation of 1 Million equity shares to promote humanitarian fundraising businesses, affordable homes and pay it forward communities. Humanitarian Investors are welcome, larger investors will receive their name on a street, hotel, or clinic.
The first step is one free humanitarian fundraising business to get people started, participants will receive other free businesses as soon as they are successful in the first. The first businesses is a custom online promotional items store, providing organizations with their idea, name or logo on 700,000+ tax deductible corporate gifts, sustainable items, and promo items, hats, shirts, pens, etc at http://PayItForwardStores.org
The second step is comprehensive marketing support, in fact Free Sustainability is offering $25,000 in equity as a sign on bonus to recruit marketing persons into their Humanitarian Advertising Team, to promote the humanitarian businesses. Contact them immediately if interested, the marketing team has been expanding since Jan 9, 2010. Already they also have their own radio station, their own chats, forum, email servers, 90,000,000 email contacts, targeted web sites, fans on every continent, and are working diligently to expand a humanitarian advertising agency with forty (40) key marketing specialties.
The third step is a double blessing, participants will get 70% commission per each sale, plus 70% savings when they buy from themselves.
The fourth step is to give away various additional humanitarian fundraising businesses as mentioned above in step one, such as software and internet marketing at http://www.AnastasiaSoftware.com, tours & travel at http://AnastasiaTours.org, affordable housing & sustainable communities at http://www.AnastasiaEstates.net
The fifth step is to provide funding assistance and helping people to purchase affordable homes in pay it forward communities which offer organic farms, solar energy, and a sense of belonging like the good ol' days.
The sixth step is early retirement and integrity living via 1,000,000 equity shares on a profitability basis according to their accumulated percentage of ownership, physical on location humanitarian fundraising businesses like hotel, farm, spa, etc, plus online humanitarian fundraising businesses as mentioned above.
Friends' n partners:
Inland Industrial Supply LTD in Canada, Dan Young Farms in Illinois and individuals like Chris Link & Steve Sande in Canada; MD Mominul in Bangladesh, Florian Fiege in Germany, Thurstans in Australia, Café Vibe in Hollywood,
Tanya Bufford near Palm Springs, Rudy Ekkawi Ministries, and humanitarian fans on every continent.
Media Contact:
Reggie PinHi: Members(at)FreeSustainability(dot)org (310) 598-0316 or visit http://FreeSustainability.org
About:
Born from the ashes of the 2008 crash, these humanitarians have donated 1,000,000 equity shares and humanitarian fund raising businesses to assist people in self funding their own affordable homes within pay it forward communities.