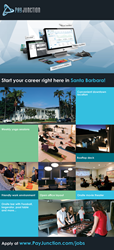 We value a healthy work-life balance, and I'm proud to see the new location furthering our heritage and positively impacting the community.
Santa Barbara, CA (PRWEB) June 13, 2016
PayJunction, answering strong demand for its electronic payment processing software and financial services, opened the doors to a new office space located at 14 E Carrillo Street, Santa Barbara, CA 93101. Situated on the 2nd floor of a Spanish Colonial style building, the new branch location features high ceilings, private suites, and over 50 workstations. Between the original State Street headquarters and new Carillo office, PayJunction now occupies 15,000 square feet of prime downtown Santa Barbara real estate.
"I'm thrilled to expand our national sales team to capitalize on the widespread interest of the new Smart Terminal offering" said Randy Modos, President of PayJunction. "We value a healthy work-life balance, and I'm proud to see the new location furthering our heritage and positively impacting the community."
Located in the heart of downtown, the new office is within walking distance to an extensive collection of restaurants, parks, theatres, art galleries, shops and boutiques. PayJunction strategically chose this facility not only because of its vast points of interest, but also because it's conducive to a sustainable lifestyle.
The campus is comprised of PayJunction's in-house sales and marketing teams. With a flexible floor configuration and an onsite technology platform, the space is designed to encourage productivity in an interactive environment. By providing everything from advanced telecommunications and workstation furniture, to catered lunches and free yoga, PayJunction is able to promote a climate of positivity and collaboration.
For more information about PayJunction, please visit PayJunction.com. For people interested in joining the PayJunction team and contributing to a culture of community and success, browse the company's career opportunities. PayJunction is currently hiring qualified candidates passionate about advancing the company's mission and themselves as individuals.
About PayJunction
The premier provider of payment gateway and merchant services, currently servicing tens of thousands of businesses nationwide. PayJunction is an end-to-end solution for all payment needs, from electronic payment processing, to managing transactions online. The company provides market leading products and unparalleled customer service to streamline workflow and facilitate businesses' long-term success.
All of PayJunction's founders are UCSB graduates committed to make a lasting impact on the industry and in the community. PayJunction is passionate about giving back to the Santa Barbara neighborhood by hosting fundraisers, sponsoring local events, and organizing gatherings with thought leaders.