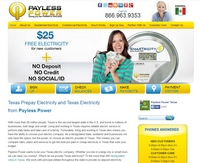 "It is truly exciting to evolve the company's website for a better fit solution for our customers," says Brandon Young, principal in Payless Power
(PRWEB) February 25, 2014
Payless Power, a leading no deposit electric company in Texas, recently unveiled its re-designed responsive website, http://www.paylesspower.com, which enhances user experience by delivering full content and functionality across all devices.
Payless Power worked with award-winning internet marketing company, i5 web works, to research and analyze audience data for the website. Their finding was that mobile and tablet use had risen exponentially and it was essential for Payless Power customers to be able to access the website's features easily from smartphones, tablets, as well as desktops and laptops.
i5 web works updated Payless Power's website design so that customers could easily access the most important sections of the website from any device. With the new responsive layout, Payless Power customers can quickly sign up for service, check their pre-paid electricity balance, make a payment, or locate a payment center.
Payless Power strives to provide customers with solutions that will improve their lives and make it easy to manage their pre-paid electricity accounts. Dedicated to helping people save money, Payless Power's new mobile-friendly website will reduce the amount of time customers need to spend on the site from their smartphone or tablet, decreasing costs for cell data usage.
"It is truly exciting to evolve the company's website for a better fit solution for our customers," says Brandon Young, principal in Payless Power, "Payless Power's goal is to continue to improve on the customer experience and provide world class service. We value our customers and are therefore going to continually invest in improvements such as this."
To see the newly redesigned site or learn more about Payless Power's no deposit, pre-paid Texas electric service, visit http://www.paylesspower.com.
About Payless Power
Payless Power was formed in 2004 and licensed by the Texas Public Utilities Commission as a licensed REP or Retail Electricity Provider. The company is locally owned and operated in Fort Worth, Texas and has many local employees. Since 2005, Payless Power has been helping people stay connected, regardless of income or credit history. As a family-owned business, and not a giant electric company, we take great pride in serving our customers with care and respect. Our prepaid electricity plans are designed to meet the needs of your lifestyle and budget. For additional information, go to http://www.paylesspower.com.