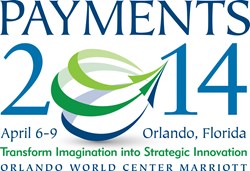 PAYMENTS 2014 is the one event for any payments professional focused on payments strategy and innovation you don't want to miss this year.
Herndon, Va. (PRWEB) February 13, 2014
Today, NACHA – The Electronic Payments Association announced the keynote and "Industry Agenda" speakers for this year's PAYMENTS conference, the largest and most comprehensive education event for the payments industry, which will take place April 6-9 in Orlando, Fl. This year, Kristian Hammond, co-founder and chief scientist of Narrative Science, will keynote the event. During his keynote, Banking on Artificial Intelligence, Hammond will explain how Narrative Science's Quill harnesses the power of data to create narratives that are understandable, meaningful and actionable - and ultimately drive business.
Additionally, Gabe Zichermann, founder of Gamification Co, will serve as the speaker for the annual "Industry Agenda" session. During this session titled Gamifying Financial Services: The Millennials, Gen X and Institutions, Zichermann will explore the habits of the consumers of the future - the Millenials - and how to effectively engage them through gamification, a powerful new approach to driving customer loyalty and engagement.
"Big data and gamification are dramatically changing the financial services industry and the way we engage and respond to today's consumer," said Janet O. Estep, president and CEO of NACHA. "Many financial institutions and businesses are already experimenting with these transformative concepts - with success. Exploring these types of game changing strategies at PAYMENTS 2014 provides the opportunity for attendees to discover the newest and most innovative ways to gain that competitive advantage in the marketplace. As such, PAYMENTS 2014 is the one event for any payments professional focused on payments strategy and innovation you don't want to miss this year."
Kristian Hammond, a co-founder of the groundbreaking startup Narrative Science, is an accomplished researcher in the areas of human-machine interaction, context-driven information systems, and artificial intelligence. In 1986, he founded the University of Chicago's Artificial Intelligence Laboratory, and in 1998 formed Northwestern University's Intelligent Information Laboratory (InfoLab). The proprietary content- generating software Hammond helped create for Narrative Science is profoundly changing the way organizations - from government agencies to financial institutions – transform the data and metrics they already have into the information they need in narrative form.
Gabe Zichermann is the Founder/Editor of Gamification Co and EQ magazine. He is also an entrepreneur, highly rated public speaker and author whose new book, The Gamification Revolution looks at how leaders are leveraging gamification strategy to crush the competition. His previous books, Gamification by Design (2011) and Game-Based Marketing (2010) have helped define the industry's standards and frameworks, and continue to be key reference materials today. Gabe is also co-founder of strategic consultancy and product lab, Dopamine, where he works with leading brands and startups to bring engagement to every corner of their enterprise.
To register for PAYMENTS 2014, learn about exhibiting and/or becoming an event sponsor, or find more information about sessions and networking opportunities, please visit https://payments.nacha.org/.
About PAYMENTS 2014
PAYMENTS 2014, taking place April 6 – 9 at the Orlando World Center Marriott in Orlando, Fl., features more than 130 educational sessions and workshops with renowned speakers from financial institutions, corporations, government agencies, legal and regulatory bodies, consulting and research firms, service providers, and more. Sessions are organized along seven tracks — the ACH Network & the NACHA Operating Rules, Card-Based Opportunities, Compliance, Risk & Fraud Prevention, Corporate Payment Solutions, Mobile & Digital Payments, Payment Strategies and World Payments Viewpoint – to address the topics of pivotal importance to payments professionals. In addition, a dynamic exhibit hall of nearly 100 industry leaders features today's top products and services.
To learn more about PAYMENTS 2014 sessions, workshops, speakers, sponsors, and exhibitors, or to register, visit https://payments.nacha.org.
NACHA — The Electronic Payments Association
NACHA manages the development, administration, and governance of the ACH Network, the backbone for the electronic movement of money and data. The ACH Network provides a safe, secure, and reliable network for direct account-to-account consumer, business, and government payments. Annually, it facilitates billions of Direct Deposit via ACH and Direct Payment via ACH transactions. Used by all types of financial institutions, the ACH Network is governed by the fair and equitable NACHA Operating Rules, which guide risk management and create payment certainty for all participants. As a not-for-profit association, NACHA represents more than 10,000 financial institutions via 16 Regional Payments Associations and direct membership. Through its industry councils and forums, NACHA brings together payments system stakeholders to foster dialogue and innovation to strengthen the ACH Network. To learn more, please visit http://www.nacha.org, http://www.electronicpayments.org, http://www.payitgreen.org, and http://direct.nacha.org.