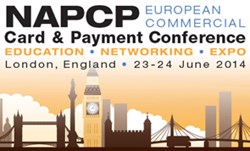 This year, we will drill even deeper into commercial payment opportunities that remain elusive for some. - Laura Flandrick
Minnetonka, Minnesota, USA (PRWEB UK) 24 October 2013
The NAPCP announces a Call for Speakers for the 2014 European Commercial Card and Payment Conference, to be held at the Bloomsbury Hotel in London, England, 23-24 June 2014. Details—including an overview of the conference, sample speaking topics and an online proposal submission form—are available now at http://www.napcp.org/2014European. Proposals must be submitted by 15 November for conference consideration; early registration rates are also valid through this date.
This unique conference, focused on practitioners from corporate and public sector entities, will offer: (1) educational sessions that examine the business case for application of various Corporate Card and Payment solutions, (2) one-on-one and small-group discussions through various networking opportunities, (3) product and technology demonstration sessions and (4) an interactive exhibit hall that will showcase products, technology and services that support payments optimization and efficiencies worldwide. One of last year's attendees will be returning with a colleague this year and said: "The conference was very valuable. There was time allocated for smaller focus groups that were also very good for networking. During the topical presentations, attendees asked a broad range of informative questions." All attendees surveyed last year indicated they would attend again.
Suggested speaking topics for the Call for Speakers include fraud realities, key controls, auditing and related practices; details necessary for building a sound and compelling business case; VAT reclamation strategies to ensure efficiency and compliance; data realities and use; integration of payments into various financial and information systems; implementation of effective travel policy and travel expense reporting processes; educating merchants such that all parties benefit; and negotiating Commercial Card contracts.
"During last year's event, we were delighted to offer a range of speakers from different industries that allowed attendees to grasp the variety of approaches to commercial payment implementation and optimization. This audience is not reserved; rather, we found that everyone willingly shared their thoughts, views and experiences. This year, we will continue the conversations and drill even deeper into opportunities that may remain elusive for some," says Laura Flandrick, NAPCP managing director. Those who will benefit from the planned agenda include CFO level, treasury, accounting, procurement and accounts payable professionals. "The NAPCP's contacts in the provider community are excited that we'll be returning to London and look forward participating as exhibitors, product demonstrators and event sponsors," says Flandrick. "Our goal is to engage with other companies that would like to step forward and define their organizations as a critical industry advocates and influencers. These players are key to helping build a more knowledgeable community, allowing for greater adoption of electronic payment mechanisms throughout Europe and worldwide."
For more information, including sponsorship pricing, please contact Laura Flandrick, NAPCP Managing Director, at Laura_Flandrick(at)napcp(dot)org or telephone +1+952-546-1880 extension 2.
About the NAPCP
The NAPCP is a membership-based professional association committed to advancing Commercial Card and payment professionals and industry practices worldwide. The NAPCP is a respected voice in the industry, serving as an impartial resource for members at all experience levels in the public and private sectors. The NAPCP provides unmatched opportunities for continuing education and peer networking through its Annual Conference, Regional Forums, webinars, website, newsletters and weekly communication. The association sponsors research and publishes timely and relevant white papers and survey results. The NAPCP certifies professionals through the Certified Purchasing Card Professional (CPCP) credential program (http://www.napcp.org/cpcp). Please visit http://www.napcp.org to learn more about Commercial Card and payment programs in general, the value of membership, current member demographics, upcoming events and benefits of becoming a year-round partner sponsor.