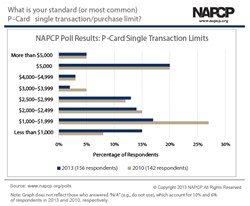 Single-transaction limits are a frequently used systemic control, second only to custom MCCs.
Minnetonka, Minnesota (PRWEB) November 21, 2013
Mercator Advisory Group, in association with the NAPCP, has released a report of results for its 2013 survey, "P-Card/One Card Program Controls: Public vs. Private Sector Organizations." The goal of the study, fielded in spring 2013, was to compare and contrast approaches used by public and private sector organizations to manage the control environment and monitor card spending in their respective P-Card/One Card programs. (Corporate Travel Card programs were not within the scope of the study.) The survey questions were designed to capture common practices in four key areas of program management: cardholder training, cardholder user agreements, spend controls, and transaction auditing and fraud. The 16-page white paper includes 10 figures and is no cost to NAPCP members at http://www.napcp.org/2013controls.
About 60% of the responses came from program managers working in the public sector, which includes K-12, higher education, and non-profit healthcare organizations as well as federal, state, and local government agencies. The remaining responses came from program managers at private sector organizations. Results confirm that public sector organizations generally implement tighter controls and restrictions; the private sector has much more freedom to set limits according to their unique risk tolerance.
Similarities and Differences Between Public and Private Sectors
While fraud rates remained extremely low in 2012 for the entire group of respondents, the report found many similarities and differences in how each group manages their respective card controls. In several key areas, public and private sector organizations have adopted similar approaches: Nearly 100% of all survey respondents required a signed user agreement—though the content varies—while 90% use MCCs for systemic control and 86% set single-transaction limits.
One of the greatest disparities between sectors was evident in the training cardholders receive. Eight-six percent of public sector organizations require that cardholders receive mandatory training before they are issued a card; the same is true of only 53% of private sector organizations. Follow-up training, following non-compliance, at the time of card renewal, etc., was common in 61% of public sector organizations but only 24% in the private sector.
The survey also uncovers (1) methods organizations use to audit transactions, (2) trends in the use of Declining Balance cards, and (3) use of technology tools to implement systemic controls.
NAPCP Polls Confirm Popularity of Single Transaction Limits
The Mercator Advisory Group/NAPCP survey identifies that single-transaction limits are a frequently used systemic control, second only to custom MCCs. In response to industry interest, the NAPCP has conducted two polls (open to NAPCP members and complimentary subscribers) to gauge the most common single-transaction limit. Although the number of organizations setting an upper transaction limit of $5,000 is unchanged in three years, it appears that many organizations are implementing a lower limit for their cardholders.
Fraud Prevention vs. Cost of Controls
According to the study, fraud losses as a percentage of total reported charge volume equaled 1.4 basis points or 0.014%. This finding supports previous studies, including those conducted by the NAPCP, demonstrating that fraud is not a significant problem among Commercial Card programs. Public and private sector organizations reported nearly identical loss rates of 0.014% and 0.015%, respectively.
Although the media often reports on rogue P-Card spending, especially in the public sector, these events are infrequent and cause small losses in relation to cost savings inherent in commercial payment strategies. Organizations must determine whether maintaining strict P-Card controls and implementing extensive training and audit practices to prevent such negative attention is worth the additional cost.
About Mercator Advisory Group
Mercator Advisory Group is the leading, independent research and advisory services firm exclusively focused on the payments and banking industries. We deliver pragmatic and timely research and advice designed to help our clients uncover the most lucrative opportunities to maximize revenue growth and contain costs. Our clients range from the world's largest payment issuers, acquirers, processors, merchants and associations to leading technology providers and investors. Mercator Advisory Group is also the publisher of the online payments and banking news and information portal PaymentsJournal.com.
For more information, visit: http://www.mercatoradvisorygroup.com.
The NAPCP: Advancing Commercial Card and Payment Practices Worldwide
The NAPCP (http://www.napcp.org) is a membership-based professional association committed to advancing Commercial Card and Payment professionals and industry practices worldwide. The NAPCP is a respected voice in the industry, serving as an impartial resource for more than 13,000 members and subscribers at all experience levels in the public and private sectors. The NAPCP provides unmatched opportunities for continuing education and peer networking through its conferences, Regional Forums, webinars, website, virtual demonstrations, newsletters and regular communication. The association sponsors research and publishes timely and relevant white papers, survey results and articles. The NAPCP offers a Certified Purchasing Card Professional (CPCP) credential. Visit http://www.napcp.org to learn more about Commercial Card and payment programs in general, the value of membership, current member demographics, upcoming events and benefits of becoming a year-round partner sponsor.