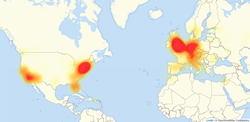 Our 24 hr customer support team was instrumental in mitigating losses caused from the outages created by today's distributed denial-of-service (DDoS) attack on very important online infrastructure
Palo Alto, CA (PRWEB) October 21, 2016
Dyn, one of the nation's largest domain name system (DNS) providers, confirmed that a large-scale hack took down more than a dozen major websites at 11:52 A.M Friday, slowing, and in some cases halting internet traffic to Twitter, Pandora, Netflix, Pinterest, Reddit, Spotify, PayPal, GitHub and the PlayStation Network to name a few.
Dyn and other DNS providers operate as a link between the URLs typed into a browser and the corresponding IP addresses. By attacking Dyn, it's possible to overwhelm that directory function and cause outages and loading problems across a large swath of the internet.
Reuters reported that Dyn said attacks were coming from tens of millions of Internet-connected devices -- such as web cams, printers and thermostats -- infected with malicious software that turns them into "bots" that can be used in massive distributed denial of service attacks.
The U.S. Department of Homeland Security last week issued a warning about this powerful new approach, noting it was concerned about the potential for new attacks after code for malware used in these attacks was published on the internet.
As of 3:45 P.M. Eastern, Dyn reports its engineers are still working to mitigate the issue.
"We have been aggressively mitigating the DDoS attack against our infrastructure," Scott Hilton, a vice president at Dyn, said in a statement provided to The Atlantic.
Premier cellphone radiation accessory and education advocate RF Safe experienced decreased connectivity and limited usage for its visitors during the attack.
"The disruptions come at a time of unprecedented fears about the cyber threat in the United States, where hackers have breached political organizations and election agencies," according to Reuters' report.
RF Safe Corporation said that the outage prevented some customers in "certain regions" from making payments. It apologized to customers for the inconvenience and said that its networks had not been hacked.
According to John Coates, Founder of RF Safe, "Our 24 hr customer support team was instrumental in mitigating losses caused from the outages created by today's massive distributed denial-of-service (DDoS) attack on very important online infrastructure that businesses have become dependent on for day to day operations".
RF Safe continues to aim to provides its users with exceptional service, and apologizes for any inconvenience. With any questions, comments or concerns feel free to contact RF Safe at:
support(at)rfsafe(dot)com
US Toll-Free: 1-844-4RF-SAFE (844-473-7233)
USA and International: 1-727-270-7911
RF Safe is a world-leading provider of cell phone radiation protection accessories and informational safety data. Since 1998 RF (Radio Frequency) Safe has been dedicated to evolving the wireless industries safety standards, by engaging in the business of design, testing, manufacture, and sale of safety technologies to mitigate harmful effects of cell phone radiation.