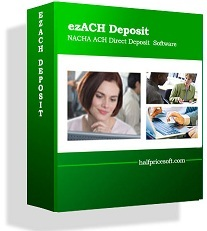 Electronic deposits have never been easier with new quick start guide for ezACH software from Halfpricesoft.com.
Houston, TX (PRWEB) April 12, 2014
Hot off the presses! New ACH payment quick start guide has just been released to add convenience and satisfaction for business owners in ezAch deposit software from Halfpricesoft.com. Small businesses creating ACH deposit for employees' paychecks electronically get more flexibility and step by step instructions! https://us.vocusm.com/Distribution/DistributionEdit.aspx#
"Electronic deposits have never been easier with new quick start guide for ezACH software from Halfpricesoft.com," Halfpricesoft.com founder, Dr. Ge says.
At the request of customers, software developer Halfpricesoft.com added a step by step guide for ezAch so users can create and send deposits without the typical hassles. Developers at Halfpricesoft.com agreed and modified the software to fit the way customers use it.
EzAch software creates an ACH (automated clearing house) file from payroll data and sends it to the user's bank to authorize transfer of funds to an employee's bank. Depositing paychecks directly means employers don't have to worry about lost or uncashed paychecks. The software imports payroll data directly from Halfpricesoft.com's ezPaycheck or ezCheckPrinting, or it can import from a .csv file generated by third-party software.
Additionally, ezAch version 2.0.5 can save multiple groups of settings. If one file is generated for hourly employees and a different file for salaried employees, ezAch Deposit Software can remember the settings for both. The user simply tells ezAch which group of settings to apply to each imported data file.
EzAch Deposit Software — Affordable direct paycheck deposit for any business — free 14-day trial
EzAch is priced at just $199 per installation, making it affordable any size business. To ensure the software meets customers' needs before purchasing, ezAch Deposit Software can be downloaded and tried free for 14 days. With purchase of a license key, customers can unlock ezAch Deposit Software for unlimited use. The free download and the license key can be found online at http://www.halfpricesoft.com/NACHA-ACH-direct-deposit-software.asp.
Unique features of ezAch Deposit Software:

Intuitive and easy-to-navigate graphical interface
Step-by-step instructions
Electronically transfer funds to pay vendors, collect from customers and pay taxes electronically
Import payment and bank data directly from ezPaycheck or ezCheckPrinting
Import payment and bank data from .csv file exported from other software
Supports multiple payment formats, including ARC, CCD, CCD+, POP, PPD, RCK, REL, and WEB SEC.
Compatible with all Windows 32-bit and 64-bit systems running Windows 98 or later versions
Compatible with Mac computers running Virtual Machine or with Parallels installed
ezACH deposit can generate NACHA ACH files for electronic fund transfers
ezAch Deposit supports multiple bank origination account.
Form level help buttons have been added to make the software even easier to use
No more hassle dealing with the banks. To start this test drive of this direct deposit software, visit http://www.halfpricesoft.com/NACHA-ACH-direct-deposit-software.asp.
About Halfpricesoft.com
Halfpricesoft.com is a leading provider of small business software, including payroll software, employee attendance tracking software, check printing software, W2 software, 1099 software, and barcode generating software. Today Software from halfpricesoft.com is trusted by thousands of users and help small business owners simplify their payroll processing and business management.