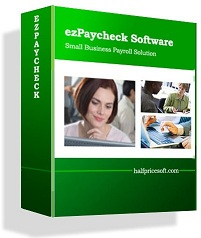 With the lowest unemployment rate in six years, business owners are turning to ezPaycheck software to process payroll in house, to offset hiring new employees.
Norfolk, VA (PRWEB) March 16, 2015
Halfpricesoft.com has determined that the unemployment rate has dropped to it's lowest in six-years! Thousands of new and previous customers are expanding the business operations and hiring new employees. Processing payroll in house is less expensive with the latest ezPaycheck software, which offsets costs of hiring new staff.
Customers utilizing ezPaycheck 2015 are now calculating payroll taxes, printing paychecks and filing tax reports, in house for less money. Choosing the right payroll software solution is essential key in a businesses success.
"With the lowest unemployment rate in six years, business owners are turning to ezPaycheck software to process payroll in house, to offset hiring new employees." said Dr. Ge, President and Founder of halfpricesoft.com.
Halfpricesoft.com always believes small business payroll software should be simple, flexible and affordable. Big, expensive and complex payroll suite may not be the right choice for new small employers. Small business customers should focus on how to grow business, not on how to operate payroll software. And small businesses should not be forced to pay some features that they will never need to use.
Customers can find an easy to use guide at http://www.halfpricesoft.com/articles/sb-payroll-software-how-to-choose.asp This will explain six simple steps to find the best payroll software for small businesses:
Step 1: List the features a company need
First off, customers should list every feature and function that they need. Don't assume that they are included in all payroll software. Some are not.
Step 2: Separate must-have features from optional features and prioritize
Once customers have the list of features, identify which features they absolutely must have. Any product that doesn't have one of these features should not even be considered.
Step 3: Look for payroll software that can enter year-to-date payroll information
If they plan to change to a new payroll software in mid-year, make sure they purchase payroll software that lets them enter year-to-date payroll data for the employees.
Step 4: Look for an easy-to-use interface
The key part here is the graphical interface - the window or screen that displays the options and accepts the data that you enter.
Step 5: Watch out for hidden fees for updating tax tables or use with multiple businesses
Tax rate tables change every year as tax laws change. Don't get stuck paying high fees to update the tax tables.
Step 6: Take potential software for a test drive
Many providers offer free trial version of payroll software that small business can download from their web site.
About Halfpricesoft.com
Founded in 2003, Halfpricesoft.com has established itself as a leader in meeting and exceeding the software requirements of small businesses around the world. Offering payroll software, employee attendance tracking software, check writing/printing software, W2 software, 1099 software and ezACH deposit software. It continues to grow in the philosophy that small business owners deserve affordable, user friendly, and totally risk-free software.