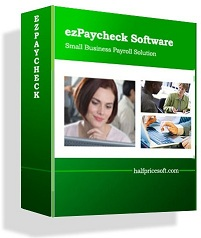 EzPaycheck payroll software easily accommodates health care agencies when paying employees on a per visits rate.
San Diego, CA (PRWEB) April 25, 2015
Many health care agencies offer employees a pay per visit pay rate. "Per visit" compensation refers to a lump sum payment as payment for all activities in connection with a visit to the patient. ezPaycheck payroll software from Halfpricesoft.com supports this pay per visit feature to accommodate health care facilities across the US. Furthermore, when health agencies utilize ezPaycheck they can save time and money for other needs for the facility.
"EzPaycheck payroll software easily accommodates health care agencies when paying employees on a per- visit rate." said Dr. Ge, the founder of halfpricesoft.com.
Halfpricesoft.com has made a commitment to customers by offering an easy to use payroll product at a reasonable price. The management team continues to honor this commitment in the new 2015 EzPaycheck payroll software.
ezPaycheck also automates payroll tax calculations and the paycheck printing. The YTD information on paycheck stubs will be updated automatically each time a new check is generated. This new manual YTD feature was included in the latest release to assist customers who processed paychecks manually before and want to start ezPaycheck application in mid year. So they can set up employee accounts quickly without entering the old paychecks one by one.
Customers seeking a way to simplify payroll processing with more accuracy can go online to http://www.halfpricesoft.com/payroll_software_download.asp and download the payroll accounting software. The download includes the full version of the paycheck software along with a sample database. The sample database allows new customers to try all of ezPaycheck software's exciting features, including the intuitive graphical interface, without wasting time entering data.
Four main reasons business owners choose ezPaycheck for in- house payroll processing.
Get more for your money with ezPaycheck.

Calculate federal and state payroll taxes, deductions, print paychecks, print tax forms, free support.
Ease of use for new and seasoned business owners.

User-friendly graphic interface and Windows menus make our payroll software quick and easy to set up, use and understand.
Increases business productivity and efficiency.

ezPaycheck payroll tax software helps employers save money by printing paychecks on blank computer check stock.
Flexible pay rate support.

Supports salary, hourly rate, commission, tips and customized wages (such as pay-by-piece, pay-by-stop and pay-by-mileage)
Supports federal and state taxes and deductions, and the local taxes (such as SDI, occupational tax, city tax).
Flexible tax options for W2/1099 employees, and unique needs of churches & non-profits employees
Priced at $89 per calendar year with no hidden or additional fees, ezPaycheck payroll tax solution is affordable for any size business. To start the no obligation 30-day test drive today, please visit http://www.halfpricesoft.com/index.asp
About Halfpricesoft.com
Halfpricesoft.com is a leading provider of small business software, including payroll software, accounting software, employee attendance tracking software, check printing software, W2, software, 1099 software, and barcode generating software. Today software from halfpricesoft.com is trusted by thousands of valuable customers and helps small business owners simplify payroll processing and business management.