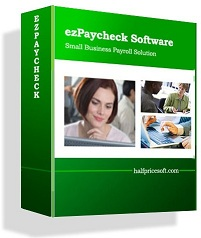 Texas customers are invited to download the newest version of ezPaycheck 2015 payroll software for accommodation and ease of use.
Houston, TX (PRWEB) June 12, 2015
Only accountants get into the business world to spend time processing payroll. Businesses need to focus on running the company. Halfpricesoft.com understands how important payroll processing is to a business. After all, a paid employee is a happy employee and the business runs better when employees are happy. ezPaycheck 2015 payroll software allows Texas business owners to process payroll in-house for less.
"Texas customers are invited to download the newest version of ezPaycheck 2015 payroll software for accommodation and ease of use," said Dr. Ge, the founder of Halfpricesoft.com.
ezPaycheck also automates payroll tax calculations and the paycheck printing. The YTD information on paycheck stubs will be updated automatically each time a new check is generated. This new manual YTD feature was included in the latest release to assist customers who previously processed paychecks manually. So they can set up employee accounts quickly without entering the old paychecks one by one.
Customers seeking a way to simplify payroll processing with more accuracy can go online to http://www.halfpricesoft.com/payroll_software_download.asp and download the payroll accounting software. The download includes the full version of the paycheck software along with a sample database. The sample database allows new customers to try all of ezPaycheck exciting features, including the intuitive graphical interface, without wasting time entering data.
Spending countless hours tabulating work hours and calculating payroll is not a favorable business task. Luckily, there are a few options for businesses. The first option is to hire an accountant or payroll services firm to handle payroll for the company. The second option is to utilize ezPaycheck payroll software to process paychecks in-house easily and less expensively.
Below are the advantages and disadvantages of each of these two options.

Cost is usually a significant consideration for small and mid-size businesses, especially in an economy like we are currently experiencing. Accountants and payroll services can easily cost $100 a month and often much more. The lower the cost the more work for customers to handle.
Payroll software runs the gamut from less than $100 a year to several hundred or even thousands of dollars. In most cases, the more it costs, the more features offered. Be sure to have a chance to try any software before committing to buying it. A good example of this is ezPaycheck from Halfpricesoft.com, which allows customers to try the full version of the product free for 30 days without cost or obligation.
Payroll data needs to be secure. Small firms and solo-accountants are not likely to have the same level of security as large firms and computer systems may be vulnerable to hackers or data losses. When considering hiring an accountant or small firm, make sure to ask about security and backup systems.
Adequate security measures for the computer system, including firewalls, secure data backups, and 128-bit password encryption, using in-house software is a reasonably secure way to handle payroll.
Time involvement and ease of use
Payroll software can also save significant amounts of time by automating payroll activities.
Unfortunately, financial software is notorious for being difficult to learn. Look for payroll software that is specifically designed for end-users who are not accountants. A good example of this is ezPaycheck payroll software, from Halfpricesoft.com.
Only the user can decide which is best suited for the company
Every business is unique and while payroll software is often an efficient, cost-saving payroll solution for most small and mid-size businesses, its best when the application allows for a trial period to test for compatibility and ease of use.
Priced at $89 per calendar year, ezPaycheck payroll tax solution is affordable for any size business. To start the no obligation 30-day test drive today, please visit http://www.halfpricesoft.com/index.asp.
About Halfpricesoft.com
Founded in 2003, Halfpricesoft.com has established itself as a leader in meeting and exceeding the software requirements of small businesses around the world. Offering payroll software, employee attendance tracking software, check writing/printing software, W2 software, 1099 software and ezACH deposit software. It continues to grow in the philosophy that small business owners deserve affordable, user- friendly, and totally risk-free software.