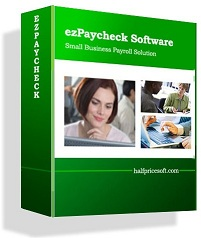 ezPaycheck 2016 payroll software is now being used in a classroom to teach teenagers valuable life skills.
Pittsburgh, PA (PRWEB) April 28, 2016
EzPaycheck 2016 payroll software from Halfpricesoft.com is now being used in high schools across the US, for teachers to help students understand just how far a paycheck really goes. Students learn how to spend wisely and to choose their career path more carefully. It will also equip students not bound for college with real life money management skills.
Students in the program receive a weekly or monthly paycheck printed via ezPaycheck that reflects the wage level of their chosen career. Students get to see what their take-home pay would be after deductions for taxes, health insurance and savings plans. Then they must pay virtual bills based on lifestyle choices they make, such as mortgage or rent and car payments. For many, the process is an eye-opening experience that demonstrates a need for frugality and gives them a greater understanding of how a college education could make a difference in their income and lifestyle.
"ezPaycheck 2016 payroll software is now being used in a classroom to teach teenagers valuable life skills," said Dr. Ge, founder of Halfpricesoft.com.
EzPaycheck payroll software is ideal for school programs because teachers are able to:
● Create unlimited virtual businesses
● Use with an unlimited number of students
● Assign pay rates to students that reflect real-world wages for their chosen careers
● Program deductions for taxes using actual federal, state and local tax rates (updated annually)
● Program deductions for health insurance and savings plans
● Set up virtual bank accounts
● Print life-like checks (based on virtual funds)
● Import data from Quickbooks, Quicken and similar accounting software
Schools and Businesses can Test Drive ezPaycheck Payroll Software without cost or obligation
Whether test-driving it for use with a school classes or trying out features for use with a business, potential customers can sample ezPaycheck 2016 payroll software and all of its features with no obligation for 30 days. Customers can download ezPaycheck at http://www.halfpricesoft.com/index.asp. All features are included, along with a sample database for testing.
About Halfpricesoft.com
Halfpricesoft.com is a leading provider of small business software, including payroll software, employee attendance tracking software, accounting software, check printing software, W2, software, 1099 software, and ezACH direct deposit software. Software from halfpricesoft.com is trusted by thousands of customers and will help small business owners simplify their payroll processing and business management.