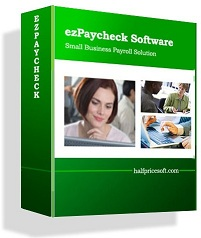 Hotels are utilizing the latest release of ezPaycheck payroll software to gear up for the hiring and payroll of summer temporary employees.
Dallas, TX (PRWEB) June 27, 2016
It's summer vacation time again and ezPaycheck payroll software from Halfpricesoft.com comes to the rescue. As hotels are gearing up for the summer vacationers by hiring temporary help to accommodate this onslaught of visitors, they turn to ezPaycheck to process payroll in-house. Hotels will ultimately save money even though they are hiring temporary employees because they will not have to outsource payroll when utilizing this innovative stand alone application.
"Hotels are utilizing the latest release of ezPaycheck payroll software to gear up for the hiring and payroll of summer temporary employees." said Founder, Dr. Ge.
The latest release of ezPaycheck software will make it easy to manage payroll for the hotel's temporary staff, main staff, restaurant staff, bar staff, and multiple shifts all from the same program while keeping accounts for different operations or shifts separate.
Available at: http://www.halfpricesoft.com/index.asp, , the latest version of this popular and easy-to-use software is priced at just $89 per installation per calendar year, making ezPaycheck payroll software affordable for any size business.
EzPaycheck includes numerous features that make it ideally suited for use by hotel managers and similar businesses with various business operations, temporary staff or around-the-clock staff with pay differentials. Now managers can track payroll separately with separate accounts for guest room staff, restaurant and bar staff, gift store staff, and event staff. Hotel managers can even track payroll for different locations of their hotel chain simply and cleanly. Additionally, pay rate differentials for different shifts are also easy to apply and track with ezPaycheck.
Hotel managers will appreciate all these features in the latest release of ezPaycheck payroll software:

Multiple accounts under one business name without additional charges
Assign multiple shift rates to each employee — great for employees who work different shifts or different jobs within the business
Unlimited employee capacity — no need to upgrade or purchase more capacity when more employees are added
Easily apply and track commissions on sales
Track tips and cash collected and include on paychecks
Easy-to-use graphical interface is user friendly and ideal for businesses without a dedicated IT administrator or accountant on staff
No accounting background required
Just $89 per installation for full, unlimited use.
EzPaycheck payroll software is available for free test drive by potential customers, owners and managers of hotels and similar businesses interested in automating their payroll process and take advantage of the many features suited for the hotel industry can test drive ezPaycheck free for 30 days. Customers simply go online to http://www.halfpricesoft.com/index.asp and download the software. The download includes the full version of the software along with a sample database. The sample database allows new users to try all of ezPaycheck's exciting features, including the intuitive graphical interface, without wasting time entering data.
About Halfpricesoft.com
Founded in 2003, Halfpricesoft.com has established itself as a leader in meeting and exceeding the software requirements of small businesses around the world. Offering payroll software, employee attendance tracking software, check writing/printing software, W2 software, 1099 software and ezACH deposit software. It continues to grow in the philosophy that small business owners deserve affordable, user friendly, and totally risk-free software.