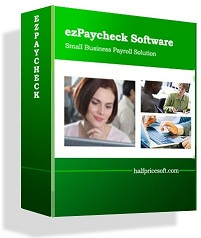 EzPaycheck 2016 payroll software is being offered to MI customers at $69 for only one more day!
Detroit, MI (PRWEB) September 30, 2016
Michigan business owners are getting one more day to purchase the ezPaycheck 2016 payroll software at $69.00. Developers at Halfpricesoft.com offer this innovative and easy to use software as an inexpensive purchase by combining, payroll, miscellaneous check writing, W2 and W3 form filing all in one software.
"EzPaycheck 2016 payroll software is being offered to MI customers at $69 for only one more day!" explains Dr. Ge, President and Founder of halfpricesoft.com
Customers seeking a way to simplify payroll processing with more accuracy can go online to http://www.halfpricesoft.com/payroll_software_download.asp and download the payroll accounting software. The download includes the full version of the paycheck software along with a sample database. The sample database allows new customers to try all of ezPaycheck's exciting features, including the intuitive graphical interface, without wasting time entering data.
Small Businesses are always looking for ways to save money on payroll processing and tax reporting. Customers can try out this new ezPaycheck payroll solution for 30 days at http://www.halfpricesoft.com/payroll_software_download.asp, with no obligation and risk.
Reasons business owners are switching to ezPaycheck are:
-Payroll software saves money for business owners and HR staff
-Outsourcing payroll is an unnecessary and expensive cost for business owners. By processing in house, customers save time and money.
-Customers can easily print W2, W3, 940 and 941 forms, in house. Eliminating tax preparation professionals.
-ezPaycheck allows customers to print on blank check stock eliminating the need for expensive pre-printed bank checks.
-Payroll software at $89.00 per calendar year ( including updates within that year), means an incredible price for new or seasoned employers.

Payroll software is flexible enough to handle varied employees and businesses
EzPaycheck supports salary, hourly-rate, commission, tips, and customized wages (such as pay-by-piece, pay-by-stop and pay-by-mileage)
-Payroll software can support federal and state taxes and deductions, and local taxes (such as SDI, occupational tax, city tax).
ezPaycheck payroll software is compatible and affordable for small to midsize businesses. Halfpricesoft.com offers a no risk 30 day trial period to test the software for your specific business payroll requirements. The only limitation to the trial version is that it prints "trial" on checks until the key is purchased. Otherwise, it is fully functional. Halfpricesoft.com also offers no cost customer support during and after the trial period for customer satisfaction.
To learn more how to do more for less with ezPaycheck business payroll software 2016, visit http://www.halfpricesoft.com/index.asp
About Halfpricesoft.com
Halfpricesoft.com is a leading provider of small business software, including payroll software, employee attendance tracking software, accounting software, check printing software, W2, software, 1099 software, and ezACH direct deposit software. Software from halfpricesoft.com is trusted by thousands of customers and will help small business owners simplify their payroll processing and business management.