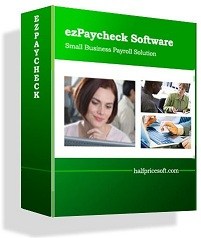 Adding this Quick Start Guide to our online documentation ensures that new customers of ezPaycheck can get started right away with no hassle or confusion.
detroit, mi (PRWEB) August 05, 2013
Software developer, Halfpricesoft.com has added a new Quick Start Guide to the collection of online resources available for ezPaycheck, the firm's popular payroll software. The new guide makes ezPaycheck even easier for small businesses to get started automating their payroll tasks to save time and money.
Since its beginning, ezPaycheck payroll software has been designed to be easy to use by managers and business owners without the need for a background in either accounting or computer technology. Once the software is downloaded and installed, customers can begin running payroll within a matter of minutes.
"Making payroll easy is what ezPaycheck payroll software is all about," said Dr. Ge, founder of halfpricesoft.com. "Adding this Quick Start Guide to our online documentation ensures that new users of ezPaycheck can get started right away with no hassle or confusion."
The new EzPaycheck Quick Start Guide, available online at http://www.halfpricesoft.com/payroll-software/quick-start-guide.asp, further simplifies the start-up process by walking customers through their first use of ezPaycheck step by step. Start-up tasks detailed in the Quick Start Guide include:

Setting up company information, including payroll period setup
Entering checking account information
Selecting a check layout and customizing the layout for printing paychecks
Adding employees and their payroll information, including pay rates and hours worked
How to manually enter year-to-date information if implementing ezPaycheck mid-year
Creating and printing paychecks
Unique Features Of EzPaycheck Software-
Supports daily, weekly, biweekly, semimonthly and monthly payroll periods. Features report functions, print functions, and pay stub functions.
Easily calculates differential pay
Prints miscellaneous checks as well as payroll calculation checks.
Prints payroll checks on blank computer checks or preprinted checks.
Automatically calculates Federal Withholding Tax, Social Security, Medicare Tax and Employer Unemployment Taxes.
-Includes built-in tax tables for all 50 states and the District of Columbia.
Creates and maintains payrolls for multiple companies, and does it simultaneously.
Prints Tax Forms 940, 941, W-2 and W-3.
-Supports multiple accounts at no additional charge.
-Supports network access.
Priced at $89 for new customers ($59 for 2012 customers), ezPaycheck payroll software is affordable for any size business. To start the no obligation 30-day test drive today, please visit http://www.halfpricesoft.com/index.asp.
About Halfpricesoft.com
Founded in 2003, Halfpricesoft.com has established itself as a leader in meeting and exceeding the software needs of small businesses in US. The software's graphical interface guides customers step-by-step through setting up employee information, setting up tax options, calculating payroll - including calculation of federal, state and local taxes; deductions for Medicare, insurance and 401(k) plans; and printing paychecks & tax forms.