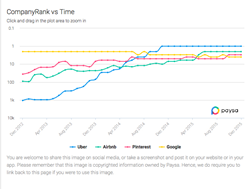 It's been said that when you're offered a seat on a rocket ship, you don't ask which seat, you just jump on. CompanyRank gives professionals leading edge insight into which companies might be that rocket ship
Palo Alto, Calif. (PRWEB) May 17, 2016
Paysa, a personalized career and salary transparency platform, announced the unveiling of CompanyRank, an interactive tool that measures the density of a company's top technical talent, then ranks companies by the density of this talent over time.
Paysa's CompanyRank tool helps professionals understand how their current or a prospective employer stacks up against competitors for top tech talent, enabling them to make more informed career decisions. Tech professionals can leverage CompanyRank insights at critical points in their career, such as when they're up for a promotion or evaluating a new opportunity.
"It's been said that when you're offered a seat on a rocket ship, you don't ask which seat, you just jump on. CompanyRank gives professionals leading edge insight into which companies might be that rocket ship," says Chris Bolte, CEO of Paysa.
Conversely, the CompanyRank tool helps job seekers identify companies that appear healthy but are beginning to decay from the inside out.
"The best and brightest often spot issues first and leave for better opportunities, despite the generally aggressive pay packages offered at their company," says Bolte. Paysa also provides personally tailored salary data for tech professionals.
Job seekers can use the CompanyRank tool to compare any set of companies and discover:

The CompanyRank tool generates a unique line graph comparing each selected set of companies over time, enabling job seekers to easily see which companies are acquiring and retaining top technology talent, and which companies are losing their best tech workers.
"The goal of Paysa and our new CompanyRank tool is to bring data and clarity to career decisions, from what tech professionals should be making and how they can increase their value, to understanding the depth of their current team – or one they're considering joining," says Bolte.
CompanyRank can also help investors and partners gain insights into the health of a company's tech workforce, and make decisions accordingly.
To create CompanyRank, Paysa aggregated and analyzed 7.45 million job changes across 198,000 companies during the past 15+ years. Companies analyzed range from Silicon Valley tech standouts like Google, Pinterest, DropBox, Uber, Airbnb and Tesla Motors, to businesses like Bain, General Motors, American Airlines and Target. Companies with fewer than 100 employees are not included.
To learn more about optimizing professional value visit: https://www.paysa.com/company-rank.
About Paysa:
Initially targeted at software engineers and related professionals in the U.S., Paysa is a personalized salary transparency and career platform that enables employees to optimize their value throughout their career. Leveraging its massive data sets of jobs, employee profiles and compensation data points in concert with its proprietary machine learning algorithms, Paysa provides professionals with actionable tools, insights, and research to help them understand their individual worth in the market today, and how to increase their value.