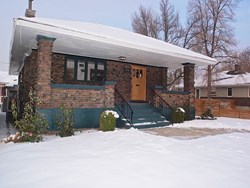 Salt Lake City, UT (PRWEB) January 04, 2014
From the quarter-sawn white oak entry, to the teak interior, mahogany bar and solid cherry kitchen, this 1915 bungalow is a wood lover's dream. The restoration of the home represents the ultimate in green recycling showing care and respect for the original craftsmanship and materials of the home while blending subtle elements of modernization to fit a modern life style. Wherever possible original hardware and materials were salvaged during remodeling and reused in the home.
This three bedroom/two bathroom bungalow boasts quite a bit of character. The open floor plan features cherry cabinets, water filtration, gas cook top and convection oven with a lot of usable storage and work space, a wood burning fireplace a deep cast iron tub, walk-in closet, an open sun-filled porch among other beautiful and unique details. The listing price is $269,000.
According to a This Old House online article, "The Salt Lake City University District is one of nine perfect locales for picking up a pretty old home close to the left coast." The University Historic District was established as a National Register district in 1995 and was designated as a local historic district in 1991.
Paz4Property, an affiliate of HomeSmart, has focused on Salt Lake City real estate for over 10 years. Realtor®, Paz Ortiz is also a local Homes for Heroes affiliate offering substantial savings and discounts to the heroes in Salt Lake City and surrounding communities. For more information on this property or other Paz4Property's listings, please contact Paz Ortiz at 801-706-5415.
About Paz4Property, an affiliate of HomeSmart
With over 4,000 professional Realtors, HomeSmart is one of the largest real estate brokerages in the Southwest. HomeSmart continues to be a leader in the Real Estate industry by implementing technologies that empower its Agents to provide outstanding customer service to their clients.
About NALA™
The NALA (National Association of Local Advertisers), a small business association, is for local business owners offering new online advertising & marketing tools, great business benefits, education and money-saving programs, as well as a charity program.
PR Contact: Tiffani Tendell
805.650.6121 x361
ttendell(at)starkartthenala(dot)com