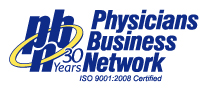 (PRWEB) October 14, 2014
At the upcoming Radiology Business Management Association (RBMA) Fall Educational Conference, Physicians Business Network (PBN), an event sponsor, will be on hand to communicate the benefits of its services to radiology practitioners from across the country. PBN offers revenue cycle management (RCM) and practice management services to clients, resulting in an average revenue increase of 15% within the first year of using PBN's services.
Through its RCM, business development and general business administration services, PBN allows businesses to focus on their patients instead of the back-end business management aspect of the practice. Radiology practices may be able to increase total revenue by enlisting a trusted partner to provide the following services:
Financial management services. Essential tasks such as accounting services, insurance planning and money management planning can be handled out-of-house efficiently and securely. Working with a partner that provides full-service accounting support can streamline processes for payroll, profit sharing and benefit management, all while maintaining the highest level of data security.
Proprietary billing and collection technologies. Revenue cycle management services help clients to reduce overhead and significantly boost income. Trained coders can optimize revenues and are able to capture additional profits. With its advanced technology, PBN provides unsurpassed quality, accuracy and uniformity in billing, while also maintaining EHNAC-accredited HIPAA compliance.
Third-party operational audit. Many practices are unaware of operational inefficiencies and missed income opportunities. Conducting a third-party business audit can help organizations to identify internal process improvements, enhance data security, improve compliance and increase overall profitability.
The RBMA conference will be held October 19-21 in Seattle, Washington, at the Seattle Westin, where PBN will be located at booth #321. More information on the event can be found online at http://www.rbma.org/fec/.
###
About Physicians Business Network: PBN is a HIPAA compliant, ISO 9001:2008 certified organization with over 30 years of experience in revenue cycle management (RCM). Through its RCM services, PBN helps clients average a 15% increase in revenue during their first year. PBN's coding team is certified and is prepared for ICD10 implementation. Through its practice management services, including HR administration, business development and general business administration, PBN helps clients by reducing overhead costs and streamlining processes. Specializing in radiology, anesthesiology, pain management and emergency medicine practices, PBN has a 98% customer satisfaction rating and maintains EHNAC-accredited HIPAA compliance. For more information visit Physicians Business Network online or connect via LinkedIn, Facebook or Twitter.