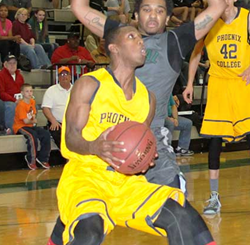 Phoenix, AZ (PRWEB) October 30, 2014
Phoenix College is proud to announce that for the first time in the history of program, the PC Men's Basketball team is ranked #1 in the NJCAA Division II Men's Basketball Preseason Poll. It's the third straight year (and the sixth time in the last seven seasons) that the Bears have earned a preseason national ranking, and it's the third time in the last decade that they are ranked in the NJCAA Top 10 (they were 6th in 2010-11 and 10th in 2006-07).
They are one of just two ACCAC men's basketball squads to appear in the NJCAA Division I & Division II Polls (Arizona Western is 23rd in the DI poll). The announcement comes just six days before the Bears kick off their 2014-15 regular season schedule at home against Arizona Christian University JV next Monday night.
Receiving the top spot wasn't a total surprise to Bears' Men's Head Basketball Coach Matt Gordon, since as he begins his second decade at the helm of the program, he's seen most defending national champions get that preseason honor bestowed upon them the next October. Gordon's approach, though, since he welcomed his 2014-15 roster back to campus this past August was to basically ignore the possibility. While he's obviously honored by the accolade, he's fully aware of how difficult it is to keep his student-athletes and coaches focused on looking forward instead of falling back on the success of last year.
Gordon has the benefit, though, of having a few key components from last year's championship squad back for this year, and the biggest component is none other than last year's ACCAC Freshman of the Year and NJCAA Division II Championship Most Valuable Player, sophomore point guard Brandon Brown. Brown has continued to work on improving his game and his court awareness, and will lean on fellow 2013-14 starting backcourt mate Noah King, returning sharpshooter Troy Conley, versatile guard Luie Lopez, Northern Arizona University transfer Travis Meeker, and last year's best-kept playoff secret, swingman Steven Green, for experience.
They'll also get plenty of help from two redshirt freshmen who were part of the program from start to finish a year ago, and six other talented freshmen to round out the 14-player roster.
The Bears will kick off their regular season schedule with at home next Monday night, November 3rd, with a non-conference tilt against Arizona Christian University JV, then will head out on the road for over three weeks. Tipoff is scheduled for 7:30PM Monday at "The Bears' Den"-PC's home gymnasium-both nights. Admission prices are as follows: $5 for adults; $3 for high school students (or PC students who don't show a valid ID); and PC students who show their valid ID as well as kids 12 and under get in FREE.
Phoenix College is one of the 10 regionally accredited Maricopa Community Colleges.