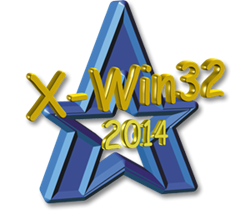 X-Win32 has remains a leading PC X server because we keep it focused on X11 Emulation. We also keep it easy to use and incorporate innovative features such as built-in SSH tunneling and OpenGL 3D support. - Steven Schoch, StarNet founder and CEO
(PRWEB) June 02, 2014
StarNet Communications Corp, (http://www.starnet.com/) a leading publisher of PC X Server solutions today announced the release of X-Win32 2014 on the 25th anniversary of the company's founding.
X-Win32 will be demonstrated in Booth #1912 at the Design Automation Conference (DAC 2014) in San Francisco June 2-5.
X-Win32 2014 offers compliance with the U.S. government's latest FIPS 140 SSH encryption requirement. The latest PC X Server also allows users to create keyboard strings that automatically execute a series of commands. For more details on this latest X11 Emulator go to http://www.starnet.com/xwin32/.
Furthermore, StarNet implemented a new Error Correction feature that allows X-Win32 2014 to correctly display remote Unix desktops and applications written in the 1970s and 80s that run on early releases of the Solaris, HP-UX and IBM AIX operating systems. Modern X11 emulators often generate errors trying to process such old and often poorly written code.
"X-Win32 2014 offers the most complete X terminal emulation feature set of any traditional PC X server," said Steven Schoch, StarNet co-founder and Chief Executive Officer. "Users can now work with both the oldest Unix-based applications and also connect to the most advanced design engineering applications running on modern Linux platforms."
Despite a recent shift towards persistent client server-based solutions – such as StarNet's FastX line -- X-Win32 remains the most popular X11 emulator in traditional LAN-based deployments. "In corporate campus environments, especially those deploying Solaris, AIX and HP-UX application hosts, X-Win32 offers the fastest, most secure and easiest to use PC X server functionality," Schoch said.
Pricing & Availability
X-Win32 2014 lists at $285.00 (commercial) in volume 1-10. Maintenance is included with the product. Additional volume discounts are available as well as special pricing for government and educational institutions. X-Win32 2014 can be downloaded for evaluation from http://www.starnet.com/products/xwin32/download.php.
About StarNet Communications
StarNet Communications Corp., founded in 1989, develops and markets X11 Emulation solutions on the Windows, Macintosh and Linux platforms. StarNet's family of PC X server products offers cost-effective, best-of-breed X terminal emulation solutions. Based in Sunnyvale, Calif., the company is privately held. For more information about our PC X Server solutions, visit http://www.starnet.com.