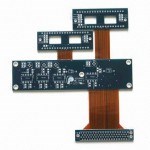 Your overall performance over this past quarter has been excellent.
Reno, NV (PRWEB) October 04, 2013
PCB Solutions is pleased to announce yet another quarter of near perfect deliveries as reported by one of our top customers, Miyachi Unitek Corporation (MUC). MUC's latest supplier review was issued for the period beginning April 1, 2013 and covered performance through the period of June 30, 2013.
"While it is always our goal to be the best possible supplier for our customers, there are times when the proof is in the feedback," said Greg Engstrom, president of PCB Solutions.
MUC closely evaluates their suppliers by looking at four performance categories: quality, delivery, customer service, and cost. In the report, James Johnson, Supply Chain Manager of MUC, stated:
"Your overall performance over this past quarter has been excellent. MU Corporation applauds your performance and wish to thank you for making our relationship a mutually profitable venture. Please continue to work with your assigned buyer as well as myself to maintain improve our already well-functioning relationship."
PCB Solutions and Miyachi Unitek Corporation have worked together for more than seven years. Competitive prices and reliable quality have been the foundation of this relationship, but MUC has also incorporated a complex "in-house" inventory system that is operated and maintained by PCB Solutions in Reno, Nevada. This system manages all of MUC's printed circuit boards through a customized inventory management process. It is one of the value-added services that PCB Solutions offers on top of the quality, pricing, procurement, manufacturing and logistics management of their PCBs.
"At PCB Solutions, we look forward to years of successful and profitable business with MUC and other future customers that are in need of a quality custom fabricated rigid, rigid flex or a flexible printed circuit board supplier," Engstrom added. "It is our aim to continue building on these successes."
About PCB Solutions
PCB Solutions is a provider of custom fabricated electronics and specifically high quality printed circuit boards and flex circuit manufacturing. With a variety of resources, PCB Solutions provides customers with very competitive supply chain solutions, and has established domestic and off-shore relationships with several high quality fabricators. PCB Solutions supports prototyping to high volume production and basic to complex multilayer PCBs & flexible circuitry. In addition, PCB Solutions offers value added services including: PCB engineering & design (schematic through assembly), warehousing, packaging, labeling, bar coding and MRP based inventory management.