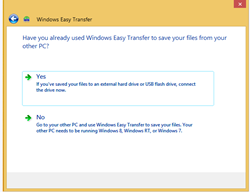 We're being contacted by frustrated consumers... They're desperate for a solution. As a long-time Microsoft partner and a strong supporter of the Windows ecosystem, we want to help solve this problem.
Bellevue, WA (PRWEB) November 22, 2013
Laplink Software, Inc. announced today that the latest version of PCmover Home will be provided at no cost as a solution to the Windows Easy Transfer problem that users of Windows 8.1 are facing.
Microsoft's latest version of Windows has significantly reduced the usefulness of Easy Transfer. Before the release of Windows 8.1, Microsoft allowed users to transfer files and settings directly from one Windows PC to another across a network or using an Easy Transfer Cable. Now, Easy Transfer will only transfer data files and only by using external media such as an external hard drive or USB stick.
It's even worse if the old PC is running Windows XP. In that scenario, Microsoft will not allow Easy Transfer to be used at all.
"We're offering our PCmover tool to all users moving from Windows XP to Windows 8.1 at no cost because it's the right thing to do," said Thomas Koll, CEO of Laplink. "We're being contacted by frustrated consumers who were caught unaware by these changes in Easy Transfer. They're desperate for a solution. As a long-time Microsoft partner and a strong supporter of the Windows ecosystem, we want to help solve this problem."
PCmover is the best-selling migration solution and the only tool that allows users to migrate selected applications to their new PC, installed and ready-to-use. No need to find old CDs or serial numbers – and nothing is left behind by accident or removed from the old PC. Although Windows 8.1 no longer supports migrations using an Easy Transfer Cable, PCmover still does. Connectivity options supported by PCmover include an Easy Transfer Cable, Ethernet cable, or a wired/wireless network.
"With XP end-of-life approaching April 2014, there's a wave of new PC buyers this holiday season who want to move from their old XP computer to a new PC," continued Koll. "Unfortunately, Microsoft has made that more difficult, but we're stepping up to make it easier. And, we want PCmover to be the migration solution of choice for all Windows migration scenarios. That's why we offer different versions of PCmover – from Home to Professional to Enterprise – designed to meet the needs of all sorts of users."
PCmover also includes Laplink's revolutionary Free Transfer Assistance, available to all PCmover users 24/7 at no additional cost. Free Transfer Assistance addresses PC setup challenges not directly related to PCmover but which are critical for users to have a successful migration experience. Properly connecting cables, troubleshooting network or Internet connectivity, and identifying the customer's migration needs are just a few examples of how this tool provides a complete solution for the end user.
"This isn't technical support," explained Koll. "This is hands-on, step-by-step guidance from a professional technician so our customers are guaranteed a smooth transfer from an old PC to a new one-- all at no additional charge."
For a limited time, Laplink is offering PCmover Home at no cost to users who are moving from an old XP computer to a new Windows 8.1 PC. PCmover Home includes application selectivity, folder selectivity, profile selectivity for logged on users, Transfer Assistance, and more – all at no charge.
For more information please visit http://www.laplink.com/PCmover-Windows-Easy-Transfer.
PCmover can be purchased at Laplink's website, Amazon, Best Buy, Fry's, Micro Center, Office Depot, Office Max, Staples, and other major software retailers in North America, Europe, and Japan.