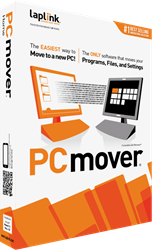 PCmover is the only migration software that allows users to choose which applications to transfer and provides the ability to transfer to and from different versions of Windows...
Bellevue, WA (PRWEB) November 19, 2013
Laplink Software, Inc. announced today improvements to its proprietary application migration feature within PCmover, keeping the best-selling migration software ahead of its competitors.
"Other migration solutions fall short of PCmover. They either use an image-based approach, unable to move between different versions of Windows, or they don't provide selectivity, which results in a very unsatisfactory migration experience," stated Laplink's CEO, Thomas Koll. "PCmover is the only migration software that allows users to choose which applications to transfer and provides the ability to transfer to and from different versions of Windows, such as moving from XP or Windows 7 to Windows 8."
PCmover is an extremely user-friendly tool that takes the pain and hassle out of moving to a new PC. PCmover can also be used to perform an "in-place" upgrade to a newer version of Windows, even for scenarios not supported by Microsoft, or to migrate from an old hard drive or image of an old hard drive to a new PC. No matter the migration challenge, PCmover makes it simple. After installing the software, a step-by-step wizard allows the user to easily customize the migration process, determining which user profiles, folders and programs they want to move. All transferred programs are automatically installed and ready-to-use on the new PC, eliminating the need to find old CDs, downloads of programs, serial numbers and activation keys.
PCmover comes in a variety of options perfect for any consumer or business need. PCmover Professional is the most popular option for consumers and small businesses providing a comprehensive solution including:

Folder selectivity
Multiple user profile selectivity
Transfer of domain users
In-place upgrade option
Restore old PC image to a new operating system
Rescue hard drive contents from non-working PC
Free high-speed transfer cable with physical box purchase
Additional savings on multiple licenses
One unique and popular feature in all versions of PCmover is its 24/7 Free Transfer Assistance. Users can set up their new PCs with the help of a certified PC migration expert over the phone or utilizing a remote control session at any time for no additional cost. PCmover also comes with a 30 day money-back guarantee, eliminating the risk of buying something that sounds too good to be true.
PCmover is perfect for businesses of all sizes. The enterprise version has been selected by numerous Fortune 500 companies as their migration tool of choice. It's the only tool that allows IT departments to manage desktop migrations even for unmanaged PCs and typically will save a business over $300 per PC deployed.
"PCmover is the most comprehensive migration software that is scalable to meet the needs of any user," explained Koll. "Whether it is a business looking to alleviate the stress and cost of a massive migration project, or a consumer wanting to upgrade to Windows 8, PCmover gets the job done."
PCmover is available in multiple editions and can be purchased at http://www.laplink.com or Amazon, Best Buy, Fry's, Micro Center, Office Depot, Office Max, Staples, and other major software retailers in North America, Europe, and Japan.
About Laplink Software, Inc.
For over 30 years, Laplink has been the leader in providing software used for PC migration, remote access, file transfer, and synchronization. The privately-held company was founded in 1983 and is headquartered in Bellevue, Washington.