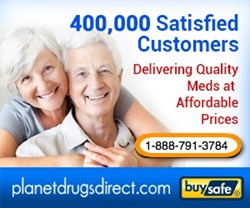 Planet Drugs Direct, a Canadian pharmacy, fully supports the U.S. Food and Drug Administration's precautions for online purchases by promoting safety tips.
Winnipeg, MB (PRWEB) January 28, 2014
Today, with over 40,000 online pharmacy websites consumers need to be aware that illegitimate and counterfeit medicines are common. Planet Drugs Direct highlights one telltale sign of illegal selling operation - the website offers to sell a prescriptive medicine without requiring a physician's RX. The online pharmacy stresses to consumers the need to learn and use safe buying practices.
The Canadian International Pharmacy Association standardized credentials so consumers can safely purchase quality prescriptions and OTC medicines from online pharmacies like Planet Drugs Direct. In previous years, it has been difficult for patients to identify legitimate sites, however as this industry matures purchasing prescriptions online is safer when you know what to look for when making purchases:
1. Look for pharmacies using verification services like Pharmacy Checker and EDrugSearch. These are of the two main verifications services used by legitimate online pharmacies.
2. Check to make sure the online pharmacy has a licensed pharmacist checking the prescription before being dispensed.
3. Verify the pharmacy is certified by an accredited organization. Planet Drugs Direct is certified by the CIPA, Canadian International Pharmacy Association.
4. Ensure that the pharmacy requires a valid prescription. No legitimate pharmacy will offer prescription drugs without a prescription from your personal physician.
5. Make sure a pharmacist is available to answer your questions.
Prescription drugs are expensive. Purchasing drugs from a local pharmacy that are not covered by an insurance plan or Medicare prescription drug (Medicare Part D) plan can put a big dent in any budget. Ordering medications from a licensed Canadian pharmacy such as Planet Drugs Direct offers an affordable solution to increasing drug costs.
About Planet Drugs Direct: Planet Drugs Direct has earned its reputation by providing consumers worldwide with a toll free customer service number, discounts on top-quality medications with valid physician prescriptions. A certified member of the Canadian International Pharmacy Association (CIPA) and verified by EDrugSearch and PharmacyChecker, Planet Drugs Direct uses BuySafe practices for its customers.