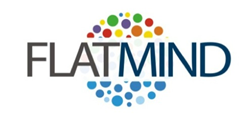 Flamind is focused in developing enterprise tools for Payroll Data Management, SAP Mobility, and QUTE BI for easy-to-customize analytics.
Rochester, NY (PRWEB) March 27, 2014
FlatMind Technologies team is currently engaged in developing and enhancing three innovative products that positively impacts the way businesses run their operations.
Product 1: PayDataExtract
Pay Data Extractor (PDE) is an extractor engine that connects the elements of pay data to process a payroll. In simple terms, the system aggregates data from employee work days (or timesheet data), benefits information, insurance data (health, dental, vision), short-term, long-term, and life insurance details, leave data, employee incentives or bonuses, and any other specific benefits that need to be included in order to process payroll.
This data collected from many different enterprise systems or tools contains data leakages, errors, and other omissions that can be costly to any organization. The PDE (PayDataExtract) solution specifically addresses these problems by connecting the different enterprise systems, processing the data and then generating a report that becomes an input to the payroll processing team or agency.
FlatMind Technologies' software, PayDataExtract (PDE), specifically addresses this problem. PDE collects data from literally any data source that includes enterprise HR systems (Oracle, SAP and others), Cloud enterprise portals (Workday, Salesforce and others), HR Pay data sheets (excel reports), and Manual data entry. PDE processes the data from all these sources and generates a report and sends it to either the internal payroll processing team or an external payroll processing agency.
The product is designed to deliver as a cloud solution SaaS delivery model with easy-to-integrate with any external ERP systems. The built-in multi-layer data security enables customers not only control the system but also controls the data that can only be accessed to their administrators. Flatmind team provides an infrastructure and PDE tool, the client choose the security pre-configured security to specify who controls the data and security.
The pricing of the tool is based on number of employees in an organization, starting at $100 per month. The PDE tool also provides a native platform to download excel data or even make a manual entry that small organizations don't need any ERP system.
Product 2: QUTE BI
QUTE Business Intelligence stands for Quick Route to Business Intelligence which accelerates the data deployment and integration with any existing data warehouse and business intelligence possible by entirely user self-service web portal. This will reduces lot of manual effort that is most commonly prevalent in the industry. Automating the Data Warehouse and Business Intelligence deployment and integration unleashes end users flexibility to bring lot of data into the organization with more meaningful insights into it.
The QUTE Business Intelligence product takes in all kinds of data that users might have and helps to migrate it into a structured DB and then tie that into predefined, configured and secured Business Intelligence application; all using a very easy to use web application by the user himself for routine tasks. The specialists in Business Intelligence or a data scientist can better spend his time by sifting through more advanced patterns and deliver expert insights. Self-service analytics will play complimentary role in the organizations along with traditional Business Intelligence setup.
Product 3: Inventory Track Management (SAP Mobile App)
The first phase of the SAP App for inventory management, to provide better interface and deeper connection to the inventory data that's available in the warehouse.
For more details related to these apps, please contact:
Email: contact(at)flatmindtech(dot)com