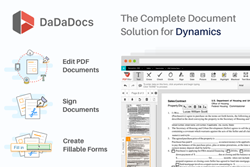 DaDaDocs integration edits PDFs, adds and requests eSignatures, and automatically creates documents filled with customer data taken from Dynamics Entities.
BOSTON, MA (PRWEB) July 13, 2017
PDFfiller releases DaDaDocs for Microsoft Dynamics 365 - a suite of document management tools incorporated into one of the world's most popular CRMs. This is PDFfiller's latest integration following other successful integrations that include Salesforce, Xero, Slack and the Google Suit.
"The DaDaDocs integration for Dynamics is aimed at solving the problems that ordinary users have. A lot of PDFfiller customers use Dynamics and they wanted to have all of PDFfiller's powerful features within their CRM," says Gal Steinberg, VP Channels and Business Development at PDFfiller.
The DaDaDocs add-on brings faster document workflow, PDF Editing, eSignature Requests, a Form Builder and an automatic form generator to Microsoft Dynamics: the new integration edits PDFs, adds and requests eSignatures, and automatically creates documents filled with customer data taken from Dynamics Entities. DaDaDocs also collects new customer data through fillable forms and displays them in Dynamics for further analysis or to generate new forms such as shipping orders and invoices.
"I'm excited to see how easy it is to edit PDF documents and send for eSignature directly from Microsoft Dynamics 365. Previously our customers needed multiple offline and online tools to achieve the same result," said Steinberg. "Through a combined cloud-based PDF Editor, eSignature solution and form builder companies can now manage their entire document workflow straight from Dynamics."
With DaDaDocs, editing any PDF agreement and contract is as easy as editing a Word document. The intuitive Signature Wizard makes creating and adding e-Signatures easy and secure. Dynamics users can send a document out for signing and collect signatures in seconds from a computer or any mobile device.
To ensure the security of their documents, users can protect access to their documents with a password and two-factor authentication.
"Now sales teams, real estate agents, law professionals - anyone using Microsoft Dynamics can easily generate forms filled with customer data. Let's say you have a contact base of your leads in a Dynamics entity and you need to send out 100 proposals," explains Steinberg. "With DaDaDocs you can add fillable fields to the proposal template, assign a certain field to a corresponding field in your database (say Name field to the Name line in your data file), automatically generate 100 copies filled with Dynamics data in seconds and then send them out for signature or data capturing."
The DaDaDocs Form Builder turns documents into interactive fillable forms with original company branding. They can be hosted on a company's website, sent via email, QR code or text message. Once the customer fills out the form, data is extracted into a designated folder in a Dynamics account. Managers can use it later for their reports or generate pre-filled contracts without having to type a single character manually.
Get started and speed up your document workflow today.
###
PDFfiller is a Boston based company that has been providing it's 280,000 customers with a complete digital document management solution since it was founded in 2008. PDFfiller's web-based editing platform is available for iOS and Android. Visit our website to try it out for free.