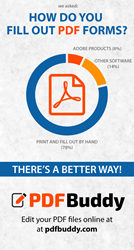 New York, New York (PRWEB) May 07, 2014
PDF Buddy (https://www.pdfbuddy.com/) is officially launching its new online PDF editor today, solving one of the most persistent hassles of the digital era: How to easily edit a PDF file.
PDF is the world's most widely used electronic document format, but because it was designed as an output format, making changes to PDF files has never been easy: users have had to use special, often expensive software, or have resorted to editing files manually. According to a recent survey, an incredible 76% of people still print out PDF files and fill them in by hand.
PDF Buddy eliminates the hassle by letting people perform the most common PDF editing tasks right in the browser, including adding text, signatures, images, and annotations, applying highlights and white-outs, splitting files apart and merging multiple files together.
"It's absurd that in 2014 most people still resort to printing and scanning their PDF files whenever they need to fill out a form or sign a document," said PDF Buddy founder and CEO Yarin Kessler. "People expect online solutions these days, and PDF Buddy gives it to them."
PDF Buddy is a HTML5 web application that works in any modern browser on Mac, PC, Chromebook, and Linux, does not use Flash, and does not require any installation or download. It has a freemium pricing model that allows users to edit up to 3 PDFs a month for free (credits can be earned by sharing on social media) with additional credits available on a pay-as-you-go or subscription basis.
About PDF Buddy
PDF Buddy was founded in 2013 to eliminate the hassle of editing PDF files. The new PDF Buddy online PDF editor provides the easiest means available for editing and signing PDF documents on the web. For more information, see: https://www.pdfbuddy.com/about.
Demo video: http://youtu.be/UyN11oexnWg