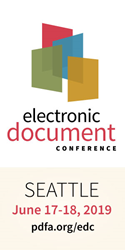 BOSTON (PRWEB) March 12, 2019
The Electronic Document Conference is designed for product managers and developers working in the electronic document space. The event includes diverse perspectives on subjects ranging from accessibility to automation to file formats and workflows.
Located at the Adobe Systems facility in Seattle, this event builds on the PDF Association's successful track-record of PDF user and technical events in cities around the world over the past 10 years. It's a unique platform for both established and emerging electronic document technology leaders across a wide range of subdomains and use cases.
Following an introductory keynote address from Boeing on the company's digital transformation journey, the event kicks off two tracks starting with file formats and Open Data. On Day 2 the conference will first hear from CreativePro President Network David Blatner, whose keynote address will zero in on "Publishing Documents Precisely".
"We're really excited to do this in Seattle, a city that's no stranger to electronic document technologies," said Matt Kuznicki, Chairman of the PDF Association and CTO of Datalogics.
"Events like the Electronic Document Conference are designed to inform and inspire the product managers and developers tasked with creating real-world solutions," said Duff Johnson, Executive Director of the PDF Association and ISO 32000 Project Leader. "The PDF Association helps feed this experience back into ISO standards development, shaping and driving the next generation of applications-development in this infrastructure technology space that spans every sector of the economy," Johnson said.
There's a distinct PDF technology thread that's common to many of the sessions. That's because, for many users, even while they use an increasingly wide range of technologies, PDF embodies the idea of an electronic document.
Just a few of the 32 educational sessions:

Document adaptation: responsiveness and personalization of the document experience
Blockchain for documents- the future of security
How reusable content in pdf could be: deriving PDF into html
Automatic distribution of full indexed documentation with multimedia content for large production plant guides
Signature workflows today - From remote electronic signatures to long term-preservation with PDF
SafeDocs: Could PDF be a weapon in cyber warfare?
Toward a theory of documents and their formats
The state of electronic document support
In addition, there are two all-conference panel discussions, short sponsored sessions and seminars. There's lots of time for networking and a dinner cruise on Lake Washington.
For technical product managers, developers and end users with a professional interest in electronic document technologies, this is a do-not-miss event.
The Electronic Document Conference will be held June 17-18, 2019. Attendees may register at https://pdfa.org/edc, and check out the full conference agenda at https://pdfa.org/edc-agenda.