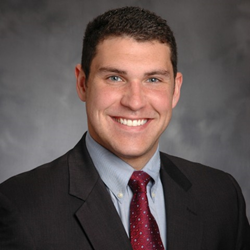 MIDLAND, Mich. (PRWEB) February 26, 2016
Patrick D. Schefsky is the newest partner in the Midland law firm of Poznak Dyer Kanar Garchow Schefsky PLC. After receiving his Bachelor of Arts, cum laude, at Albion College in 2006, Schefsky earned his Juris Doctor, cum laude, from the Michigan State University College of Law in 2010.
Schefsky's primary practice areas are state appellate practice, family law, litigation and creditors' rights.
"I am honored that my fellow partners think enough of my skills and personality to invite me to join the firm as a partner," Schefsky said. "Having worked as an associate for the firm, I know that they are some of the most talented and, more importantly, ethical lawyers in the Great Lakes Bay Region. I hope to live up to the standard they have set, and as a firm continue providing first class service to our clients."
Schefsky gained admission to the State Bar of Michigan in 2010. The following year, he was admitted to the U.S. District Courts for the Eastern and Western Districts of Michigan.
He is a member of the State Bar of Michigan, the Midland County Bar Association, and the American Bar Association.
Born in Midland and a graduate of Midland High School, Schefsky is now a partner in a regional law firm whose attorneys live and work closely with Midland residents, businesses and others in the surrounding areas.
In addition to their legal expertise, the firm's attorneys and staff members volunteer their time and resources to local health and human services groups, the arts, economic development organizations and community foundations, among others.
Amid this tradition of community service, Schefsky is a board member of the Midland Center for the Arts Center Stage Theater and Choirs and a member of its volunteer relations committee. He is also a member and chair of the fellowship committee for Rotary International's Midland Noon Club and goalkeeper coach for Midland High School's boys and girls varsity and junior varsity soccer teams.
For more information on Poznak Dyer Kanar Garchow Schefsky PLC or a family law attorney, please see http://pdkgattorneys.com, call (989) 832-1770 or visit Poznak Dyer Kanar Garchow Schefsky PLC, 143 McDonald Street in Midland, MI 48640.
Poznak Dyer Kanar Garchow Schefsky PLC provides a variety of legal services to help clients meet legal challenges with confidence, avoid unforeseen complications and plan for a better future. It is a full-service firm that offers the specialized legal expertise of a large cosmopolitan firm tailored to the convenience and personal touch required by clients from Midland, Saginaw and the surrounding areas.