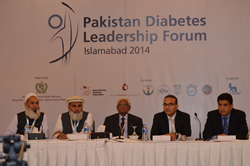 'Diabetes is not only a health crisis, it is a global societal catastrophe. No country, rich or poor, is immune to the epidemic.' - Rana Zafar, General Manager Novo Nordisk Pakistan
Islamabad, PK (PRWEB) March 02, 2014
The key points are the outcome of discussions and presentations by health practitioners and policy makers from Europe, Middle-East and Pakistan, who have over the past two days highlighted the alarming spread of diabetes in Pakistan and the urgency in improving diabetes care at both local and national levels. The recommendations echo the Government of Pakistan's vision to collaborate and work with all concerned parties.
The proposed outline of the national action plan was presented by Prof. A. Samad Shera, President of Diabetic Association of Pakistan, who highlighted that healthy lifestyle combined with exercise was the key answer to good health. The presenting panel shared that the recommendations will be adopted and integrated into the final Pakistan Call to Action document. Actions will be included in the Pakistan Diabetes Leadership Forum (PDLF) Summary Report to be endorsed by the host and co-hosts and shared later in 2014. The long-term goal is to facilitate the process of developing a National Diabetes Action Plan and Policy document for Pakistan endorsed by the government and national stakeholders. The panel shared that the Forum Co-Chairs, partners and steering committee look to work with the Ministry for the Call to Action and make it represent the needs of patients, healthcare providers and all parties committed to changing diabetes.
During the PDLF, Mr. Shaukat Ali Yousufzai, Minister for Health, KPK also announced that the KPK Government will be starting a PKR 25 Million project on diabetes the next four months. Stating that diabetes was more dangerous than terrorism, Minister Yousufzai said that the KPK Government will be providing free insulin to all diabetes type 1 patients and to lower income families with type 2 diabetes. The KPK Ministry of Health will also be including diabetes awareness campaigns in their upcoming health awareness campaigns and encouraged that stakeholders to actively participate in such campaigns.
Addressing the participants and media, Mr. Rana Zafar, GM Novo Nordisk Pakistan thanked all of the participants for their hard work and input. "Diabetes is not only a health crisis, it is a global societal catastrophe. No country, rich or poor, is immune to the epidemic. We need to change the risk factors of diabetes by promoting healthy lifestyles as preventive measures combined with effective treatment opportunities through improved healthcare. This action plan will be a national road map for all stakeholders to work jointly addressing the current challenges in healthcare delivery services. It also aims to improve the lives of the several millions of Pakistani suffering from diabetes and save many more precious lives in years to come. I am confident that these two days of intense engagement and discussion will carry forward many more collaborations and initiatives to fight diabetes in Pakistan."
According to the International Diabetes Federation, there are around 6.7 million people with diagnosed diabetes in Pakistan. It is estimated that this number will rise to 12.8 million by 2035, which puts Pakistan among the top countries with the highest number of population suffering from diabetes.
The Pakistan Diabetes Leadership Forum event was hosted by the Ministry of National Health Services, Regulation and Coordination, Government of Pakistan in joint collaboration with the International Diabetes Federation (IDF), the World Diabetes Foundation (WDF), the Diabetic Association of Pakistan (DAP) with support from the Danish global healthcare company Novo Nordisk.
About Novo Nordisk:
Headquartered in Denmark, Novo Nordisk is a global healthcare company with 90 years of innovation and leadership in diabetes care. The company also has leading positions within haemophilia care, growth hormone therapy and hormone replacement therapy. Novo Nordisk employs approximately 38,000 employees in 75 countries, and markets its products in more than 180 countries.
For more information, visit novonordisk.com.mx.