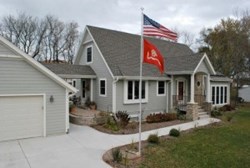 We enjoy nothing more than working closely with everyday people to create exceptional, uniquely beautiful, energy-efficient homes.
Milwaukee, Wisconsin (PRWEB) December 03, 2013
PEA Builders Inc., a Muskego-based green home builder and remodeler, is proud to announce that they will soon be celebrating their 19th anniversary. As one of only a few locally owned companies that focus solely on environmentally sustainable home design, building and remodeling, PEA Builders Inc. has pioneered sustainable construction and green home design throughout southern Wisconsin for nearly two decades.
Founded in 1995 by Steve Homa, who combines a degree in architecture with vast carpentry experience, PEA Builders Inc. stands for Progressive Environmental Alternatives, Inc. The name speaks to Homa's commitment to use progressive materials and methods to incorporate environmentally sound products and concepts, and to use alternative energy sources to build sustainable homes that minimize environmental impact.
Nearly 20 years later, PEA Builders continues to lead the way in green building and environmental home design. In addition to using classic green building techniques like passive solar design, PEA Builders uses environmentally friendly home building materials that often dramatically increase energy efficiency, such as structural insulated panels (SIPs), insulated concrete forms (ICFs), solar electric panels (PV), and geothermal systems. They hold firm to the motto, "Insulate tight, ventilate right" when it comes to energy efficient building. And, when PEA Builders isn't building homes, they're remodeling them using sustainable, eco-friendly materials like cork or bamboo flooring, eco-choice carpeting, and low/no VOC paint.
While most home builders might dream of becoming "high volume" builders who can quickly turn out pre-fabricated homes, Homa has a different vision. For him, it is important that people understand that "we're not a 'cookie cutter' builder." Instead, PEA Builders builds one-of-a-kind, high performance dream homes for people who have a unique vision that they want to see brought to life. According to Homa, "We enjoy nothing more than working closely with everyday people to create exceptional, uniquely beautiful, energy-efficient homes."
As PEA Builders approaches its 19th year in business, they continue to build upon a simple philosophy: quality over quantity (similar to Sarah Susanka's "The Not So Big House" idea). Instead of building huge homes that waste energy and space, PEA Builders will continue to build homes that make better use of space, the environment and recyclable materials — because big dreams can come in smaller, energy-efficient packages if they're designed properly.
For more information about PEA Builders, please visit http://www.peabuilders.com or call 262-506-9616.