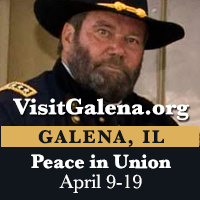 Galena, IL (PRWEB) February 18, 2015
Galena, Ill. is pulling out all the stops to commemorate the sesquicentennial of Robert E. Lee's surrender to General Ulysses S. Grant. This important event marked the beginning of the end of the Civil War on April 9, 1865. The event, Peace in Union, runs April 9-19 with a crescendo of special events throughout the 10 days.
Why Galena? Not only is Galena a leisure travel destination that hosts 1 million visitors a year, it also holds a deep connection to Grant and the Civil War. Nine Union generals came from Galena. Grant lived in Galena both before and after the Civil War. His post-war home is a state historic site that's open to the public. His first presidential campaign headquarters were at The DeSoto House Hotel, still the oldest operating hotel in Ill., and he was notified by telegram that he won the election while at the Washburne House. Reminders of his life and times are around every corner and many are still accessible to the public. The church he attended, the building that housed his family's leather store, the lawn where he mustered and drilled the 45th Illinois Regiment...it's all in Galena!
Peace in Union consists of an array of events including a fashion show, performances, tours, a Civil War brass band concert, a dinner theater show and more. Step back in time as you stroll the historic streets. Details ande additional area offerings and lodging options can be found at http://www.VisitGalena.org or call 888.942.5362. While in town, stop by the Welcome Center in the Old Market House, 123 N. Commerce St., Galena IL 61036.