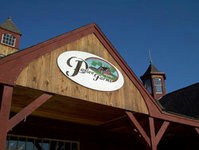 Tyngsboro, MA (PRWEB) August 08, 2013
Parlee Farms (http://parleefarms.com), a Boston area family fruit farm, has started its 2013 peach picking season. Along with nectarines and plums, peaches are the last fruits available during the warm summer months before the fall picking season begins.
"Our pick your own peach orchard is only about a 5 minute walk from our Farmstand. Nothing tastes better than when you pick your own tree ripened peach!" said Ellen Parlee, owner of Parlee Farms in Tyngsboro, MA.
Parlee Farms harvests 15 varieties of freestone peaches, three varieties of nectarines, and eight varieties of plums from early August into mid-September. In addition to pick your own peaches, customers also have the option to purchase peaches, nectarines, and plums in the Parlee Farms Farmstand. These fruits are picked at the optimum ripeness to maintain the tree ripened flavor. To learn more about the Parlee Farms peach orchard, please visit: http://parleefarms.com/peaches.html
When peach picking, it's important to wait until the peach is fully ripe. There should be no green left on the peach. The peaches on the top and outside of the tree are usually the first ones to ripen and should come off of the tree easily with a slight twist. Because peaches can bruise very easily, it's important to be very careful when handling them. The sign of a great peach is when, after biting into it, the juice runs down your chin! Once you get your fresh picked peaches home, they should keep for about 5 days in the refrigerator.
In addition to peach picking and blueberry picking, Parlee Farms also currently offers cut your own flowers through late September. The Parlee Farms flower fields cover about one acre. Each spring, 10 shades of 'Benary Giant' zinnias, 5 varieties of beautiful sunflowers, and more than 15 colors of gladiolus and dahlias are planted. Fresh picked flowers can also be purchased in the Farmstand. Bunches of fresh picked flowers are created every morning.
Along with pick your own fruit, Parlee Farms offers many other attractions for visitors to enjoy. Mary's Country Kitchen, the award winning bakery at Parlee Farms, offers tasty treats related to each picking season. Annie's Animal Barns have two barns filled with young farm animals to feed and pet including baby goats, sheep, chickens, and bunnies.
To learn more about Parlee Farms and to find out what the current picking conditions are, please visit http://parleefarms.com. Picking conditions and hours are updated daily by 7am.