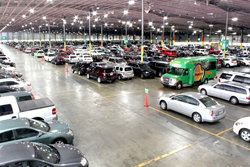 Atlanta, GA (PRWEB) April 02, 2014
Peachy Airport Parking has announced the launch of its new Peachy Rewards Card, which allows members to earn points for every dollar spent at Peachy toward free parking days. Peach Rewards Club Members also automatically receive 15% off the posted parking rate at Peachy's parking facility near Harstfield-Jackson International Airport.
Using the Peachy Rewards Card is easy!
1. Pick up your Peachy Rewards Card from the exit cashier on your next visit to Peachy.
2. Register your card at the Rewards Card website: http://www.peachyrewards.com.
3. Get 15% off the post rate, automatically.
4. Earn points toward free parking with each stay.
5. Get faster exits by using the Peachy Reward Card in the Self Pay lane.
Peachy Airport Parking also recently announced new promotions for 2014 aimed at driving customer loyalty in the competitive airport parking industry.
Peachy allows customers to trade in any competitor's frequent parker rewards cards to receive three free days of Peachy parking. Also customers who have a corporate rate can leave their business card with Peachy and the company will automatically apply their corporate rate to the new Peachy Rewards Card. Customers interested in setting up a corporate parking rate should send an email to info(at)peachypairportparking(dot)com for more information.
Peachy Airport Parking's Louis Vuitton travel bag giveaway has been a massive success so far this year. More than 5,000 Atlanta travelers have entered the contest – which awards a luxurious Louis Vuitton bag to one lucky winner each month. So far the winners have been Rhonda Robinson-Heard of Lithonia, Brandon Denton of Atlanta, Dorothy Giddens of Stockbridge, Jennifer Keip of Greensboro, and Ruby McCullough of Duluth.
To enter the giveaway, visit http://bit.ly/189dOMq. The Louis Vuitton travel bag giveaway is open to the public – the Peachy Rewards Card is not required.