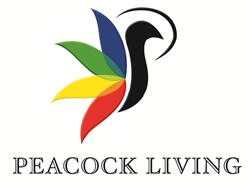 Toronto, Ontario (PRWEB) October 18, 2016
Peacock Living brings innovation to interior design with SurfaceMotif, a painting alternative to wallpaper. Designed to simplify home decor and create one of a kind designs, SurfaceMotifs are 18" (45.7cm) wide sheets of masking tape that come in a roll 30' (9.1m) long. With a unique Motif stenciled into the tape, it enables different tape sections to be removed, creating countless design possibilities. The perforations every 9" (22.8cm) is perfect for handling any size project from arts and crafts, DIY furniture projects, to accent walls and flooring. SurfaceMotif is a wallpaper alternative that is versatile and transformative.
The application consists of 4 main steps, Apply, Peel, Paint and Remove. First applying the masking tape onto your surface, and removing the perforated sections to create your personalized pattern. Finally painting the exposed surface, and removing the remaining tape once the paint has dried. No need for numerous measurements, and tediously applying 1" masking tape strips at a time. Achieving personalized painted designs have never been easier!
More About Peacock Living:
Founded in 2015 by Leroy Lo, a Mechanical Engineer from Ryerson Polytechnic University, with a passion for architecture and interior design. Peacock Living is a proud Canadian company based in Toronto, with SurfaceMotifs designed and manufactured within Canada and the United States. This ensures quality as a premium product, drawing on the expertise of local suppliers.
Not only is Peacock Living providing an innovative solution to interior decorating, they are also taking the opportunity to give back, by donating 1% of total profits to charitable organizations.