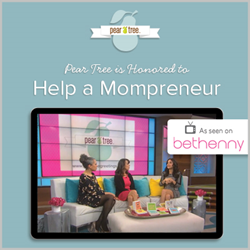 We were moved by Stacey's story and share her belief in making connections with family and friends.
North Mankato, MN (PRWEB) April 22, 2014
Pear Tree Greetings was featured on the FOX television show, Bethenny, Monday, April 21, for their donation of 30,000 printed napkins that made the dream of a "mompreneur" come to life.
In the segment entitled 'Bethenny in your Business,' host Bethenny Frankel brought Pear Tree Greetings together with businesswoman, Stacey Tibbitt, whose dream was to create a business out of her unique lunchbox napkins printed with loving, encouraging messages for kids. Pear Tree Greetings' donation of 1,500 packets of napkins in 20 different designs will help her business get started.
Stacey's business, Love-N-Notes, began with a desire to brighten her daughter's day at school. Her daughter had a learning disability, and Stacey wanted to connect with and encourage her during the day, so she began including napkins with hand drawn messages in her lunchbox. Once she saw the positive influence the napkins were having on her daughter, Stacey decided to start a business.
"We were honored to help Stacey by donating napkins to support her business," said Stephanie Bottner, General Manger for Pear Tree Greetings.
"We were moved by Stacey's story and share her belief in making connections with family and friends. Whether it is through a handwritten note, a holiday card, or a napkin in a lunchbox, taking the time to show you care and are making an effort, will brighten anyone's day," Bottner added.
Pear Tree Greetings also offered to feature Stacey's exclusive napkin designs on their website.
"I am overwhelmed by the generosity of Pear Tree Greetings for donating 30,000 napkins to my business," shared Stacey. "It will help my business incredibly. I am so appreciative."
About Pear Tree Greetings
Pear Tree Greetings helps people celebrate life's sharable moments with a collection of uniquely personalized Christmas cards, save the date cards, photo cards and stationery made of high quality, 100-pound, matte-finish card stock. With surprisingly affordable designs for every occasion, ready to customize in minutes online, Pear Tree inspires us to stay connected with friends and loved ones. For more information, visit http://www.PearTreeGreetings.com.