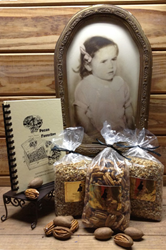 Cloutierville, LA (PRWEB) September 30, 2014
As the cooler weather of fall approaches, many home bakers go back to their kitchens to bake delicious seasonal treats. For the baker who loves pecans, Natchitoches Pecans now offers "Ms. Rita's Baker's Special" in addition to their extensive selection of Louisiana pecans and other pecan gifts. The package, available both online and in-store, includes a 1 lb bag of Fancy Pecan Halves, 2 lbs of Pecan Pieces, and the Pecan Favorites Cookbook.
Natchitoches Pecans is a family-run business, and the cookbook is a collection of the Swanson family's (and matriarch Rita's) favorite 200 pecan recipes, from Pecan Sticky Buns and Pecan Divinity to Butter Pecan Turtle Cookies and Pecan Apricot Bread. The gourmet Louisiana pecans included in the package are the perfect pecans to use with the recipes. The package retails for $49.95.
Located on Little Eva Plantation, the Natchitoches Pecan store in Cloutierville, LA carries the Ms. Rita's Baker's Special as well as fresh pecans, pecan candies, spiced pecans, pecan meal, gourmet pecan oil, and a range of pecan gift items. Pecans are fresh from the plantation, and the family reports that this year's crop is looking very good. Ample rainfall during the critical water stage of growth has ensured good filling out of the pecans, and there are signs that the start of the pecan harvest will be earlier than usual.
Natchitoches Pecans' fresh pecans and all other pecan items can be ordered online at http://www.natchitochespecans.com or by phone at 1-800-527-5925. A new brochure for ordering is also available online and can be found in locations around the state.
###
About Natchitoches Pecans
Established in 1987, Natchitoches Pecans, Inc. is a family owned and operated pecan orchard. Mark Swanson sees to the everyday operations, his wife, Julie, takes care of Little Eva's Pecan Store and the mail-order business, and their mothers, brothers, sisters, nieces, and nephews all help wherever needed. Natchitoches Pecans is proud to provide high-quality, gourmet Louisiana pecans for all of its customers.