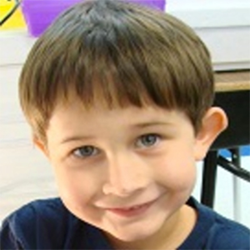 Our agency is honored to be part of Team Brock, and our mission during this charity event is to raise awareness of his condition and gather donations that can be used to help find a cure for DIPG
Arlington, TX (PRWEB) June 22, 2017
The Holguin Agency, a Dallas area insurance management and financial planning provider that serves communities across northeastern Texas, is embarking on a charity drive to help raise support for The Cure Starts Now with Team Brock. Brock was diagnosed with a rare cancer, which affecting more and more children. There is no cure, and treatment is expensive.
In May of last year, the Fleming family was informed that Brock had Diffuse Intrinsic Pontine Glioma (DIPG), a rare form of cancer that attacks the brain stem. DIPG is very difficult and expensive to treat due to its close proximity to the brain, and while most children diagnosed with this kind of cancer are only given a year to live.
"Our agency is honored to be part of Team Brock, and our mission during this charity event is to raise awareness of this condition and gather donations that can be used to help find a cure for DIPG," says Yvette Holguin, owner and executive director of the Holguin Agency.
To galvanize support from families, entrepreneurs, and health care professionals in the Dallas region, Holguin and her team are sharing information about the charity event over email and social media channels. Future efforts to generate publicity and support for the cause will include the publication of a cover article slated for release in a new edition of the Holguin Agency online local interest webzine "Our Hometown": http://www.holguinagency.com/Our-Hometown-Magazine_39.
As committed members of the "Agents of Change" nationwide charity assistance coalition, Holguin and her team have worked with a number of charities and nonprofit organizations in and around the Dallas region and plan to continue working with many more in the future.
All those who wish to learn more about the Arlington area charity drive to raise support for Team Brock are urged to help further the cause by visiting the following page and taking action: http://www.holguinagency.com/The-Cure-For-DIPG-Starts-Now-With-Team-Brock_27_community_cause. Those who would like to review previous charities championed by the Holguin team can find the firm's growing list of Community Causes on this page: http://www.holguinagency.com/community-cause?page=1.
About The Holguin Agency
Yvette Holguin and her sister Sonia Holguin Castro have worked with Allstate for over 25 years, combined. During that time they have learned what makes and keeps their customers happy, and established their agency's focus on providing them with the most courteous and exceptional service possible. It is their priority to function as their trusted advisor, properly covering their assets and offering expert advice regarding their finances, automobile, home, business and anything else that is of value to them. To contact a specialist at The Holguin Agency, call (817) 609-8051.