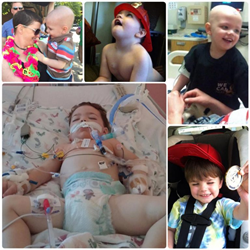 Dillyn is a smart, vibrant young man who deserves the best treatment available, and we're asking everyone in our community to come out for this event and help us give him the support he needs
Kingston, NC (PRWEB) March 22, 2017
Chris Humphrey Insurance Agency, a North Carolina firm offering asset protection services and financial planning assistance to families and business professionals throughout the coastal plains region, is initiating a charity event to raise support for five year old Dillyn, a young boy struggling to overcome cancer.
Dillyn was first diagnosed with leukemia on a Friday evening in September 2014. At the time, Dillyn was only four years old, but he has now undergone more aggressive chemotherapy sessions than many adults with cancer. Dillyn's mother, Suzy, has attempted to maintain a regular work schedule, but caring for her son requires frequent runs to the hospital and she is seeking assistance to continue providing him with care.
"Dillyn is a smart, vibrant young man who deserves the best treatment available, and we're asking everyone in our community to come out for this event and help us give him the support he needs," says Chris Humphrey, owner and principal of the Chris Humphrey Insurance Agency.
Promotion efforts for the charity event in regional communities are already underway, as Humphrey and his team make connections with local families, associates, and friends over email and social media channels. Additional publicity for the charity drive is expected from a full length article featuring Dillyn which will soon be published in the Chris Humphrey Insurance online magazine "Our Hometown": http://chrishumphreyinsurance.com/magazines/.
Nearly twenty charitable organizations and nonprofits operating in eastern North Carolina have been supported by the Chris Humphrey Insurance Agency since the team joined a national charity program called "Agents of Change" several years ago. Over the months to come, the Humphrey team is committed to assisting at least one new regional charity on a quarterly basis.
All readers who would like to be part of the charity event to raise support for young Dillyn in his battle against cancer are invited by Humphrey and his team to make a positive impact by following this link: http://chrishumphreyinsurance.com/causes/joining-little-dillyn-fight-cancer/. Information on previous charity drives hosted by the Chris Humphrey Insurance Agency can be accessed from the company's Community Causes listing: http://chrishumphreyinsurance.com/community/.
About Chris Humphrey Insurance Agency
As a Personal Finance Representative in CITY, agency owner Chris Humphrey knows many local families. His knowledge and understanding of the people in his community ensures that clients of Chris Humphrey Insurance Agency are provided with an outstanding level of service. Chris and his team look forward to helping families protect the things that are most important – family, home, car and more. Chris Humphrey Insurance Agency also offers clients a preparation strategy for achieving their financial goals. To contact an expert at Chris Humphrey Insurance Agency, visit http://chrishumphreyinsurance.com/ or call (252) 527-3666 in Kinston or (919) 736-3434 in Goldsboro.