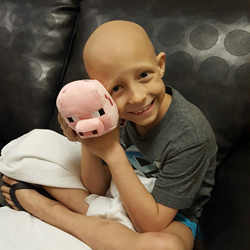 Ryan is an incredibly strong young man, and the goal of this charity event is to raise funds for the Holt family so that they can concentrate on his ongoing recovery
Phoenix, AZ (PRWEB) November 14, 2016
The Russ George Agency, a Phoenix-based firm offering insurance and financial consultation services to communities in and around the greater Phoenix metropolitan region, is embarking on a charity drive to raise support for a local boy winning his battle with cancer.
Ryan Holt, a seven year old native of Arizona, was diagnosed earlier this year with Stage 4 Burkitt lymphoma, widely regarded as one of the most aggressive forms of cancer. Ryan's lymph nodes, digestive tract, pancreas, kidneys, and the majority of his bone marrow were all affected, but he is now on the road to recovery thanks to chemotherapy and platelet transfusions.
"Ryan is an incredibly strong young man, and the goal of this charity event is to raise funds for the Holt family so that they can concentrate on his ongoing recovery," says Russ George, acting manager and owner of the Russ George Agency.
To generate publicity for the charity drive, the Russ George Agency is building an online social media and email nexus to share information with Phoenix area families and business owners. As well, George and his team will be drafting a full length article outlining the goals of the charity drive for publication in "Our Hometown," a monthly webzine hosted by the Russ George Agency: http://www.russgeorgeagency.com/Our-Hometown-Magazine_39.
George and his team have already planned out several additional charity support programs over the months to come. The Russ George Agency is a member of the national "Agents of Change" charity involvement campaign, and will be working to support Phoenix area charitable causes in the future at the rate of one every sixty days.
All readers of this release are personally invited by the Russ George Agency to be a part of the effort to support the Holt Family by clicking the following link and taking action: http://www.russgeorgeagency.com/Ryan-Holt-The-Boy-Who-Beat-Stage-4-Cancer_16_community_cause. More information on future charity programs sponsored by the Russ George Agency will be made available on the company's Community Causes summary page: http://www.russgeorgeagency.com/community-cause.
About The Russ George Agency
As a Personal Finance Representative in Phoenix, Arizona, agency founder Russ George knows many local families. His knowledge and understanding of the people in his community helps provide customers with an outstanding level of service. George and his team look forward to helping families protect the things that are important - family, home, car and more. They can also help clients prepare a strategy to achieve their financial goals. To contact an expert at the Russ George Agency, please visit http://www.russgeorgeagency.com/ or call (480) 705-0990.