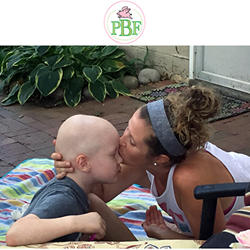 Our agency is committed to helping the Piggyback Foundation in their efforts to help parents bring joy to children battling serious illness, and we are asking for support from our friends in the Cleveland community
Akron, OH (PRWEB) July 12, 2017
The Dilger-Maxwell Agency, a Cleveland area firm that provides insurance assistance, financial consultations, and related services to families and business owners in northern Ohio, is announcing a joint charity effort in cooperation with the Piggyback Foundation with the goal of assisting families of children receiving critical medical care.
The Piggyback Foundation believes that children and their parents should be provided with as much time together as possible while children are receiving urgent medical care. As medical costs, treatment schedules, and doctor's appointments mount, finding quality time with a sick or injured child can be difficult, and the Piggyback Foundation helps parents find this time to focus on their children.
"Our agency is committed to helping the Piggyback Foundation in their efforts to help parents bring joy to children battling serious illness, and we are asking for support from our friends in the Cleveland community," says Tonia Maxwell, founder and executive director of the Dilger-Maxwell Agency.
Maxwell and her team are creating an extensive following over social media channels, and the firm is actively connecting with regional families and medical practitioners via an email update system to raise support for the charity drive. Future efforts to generate public support for the event will include a cover article outlining the charity drive goals which will be released in a new edition of "Our Hometown," a monthly local interest webzine hosted by the Dilger-Maxwell Agency: http://dilgermaxwellagency.com/Our-Hometown-Magazine_46.
More than half a dozen charitable organizations and nonprofit causes in and around Cleveland have enjoyed the assistance of the Dilger-Maxwell Agency since the firm joined the "Agents of Change" charity support movement early last year. Going forward, Maxwell and her team have committed to working in support of new regional charities quarterly.
Maxwell and her team were recently able to make a significant donation to Genesis by the Lake Recovery Housing, a previous cause supported by the Dilger-Maxwell Agency. Those who wish to be part of the charity event benefitting the Piggyback Foundation are invited to learn more on the following page: http://www.dilgermaxwellagency.com/Bringing-A-Smile-To-Those-Battling-Cancer_13_community_cause. All organizations supported by the Dilger-Maxwell Agency are detailed on the firm's Community Causes page: http://www.dilgermaxwellagency.com/community-cause.
About Dilger-Maxwell Agency
As a native of Norwalk, Ohio, Tonia Maxwell has built relationships with many families and business leaders in the Cleveland area. With her husband and four children, Maxwell understands small-town life more than most insurance providers, and her team at the Dilger-Maxwell Agency is committed to providing superior service and assisting local families as they protect what's important: your family, your home, your finances, and your life. In addition to offering local families and business owners with earnest and reliable protection, Maxwell and her team can help your family plan a strategy to reach your financial goals. To speak to a helpful representative from dilger-Maxwell, visit http://www.dilgermaxwellagency.com/ or call (419) 668-8016.