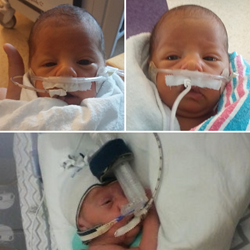 Both of these babies desperately need our help, but if our community comes together to provide support to these new mothers we can make sure Jaydyn and Alejandro receive the best care possible
Albuquerque, NM (PRWEB) August 09, 2016
Sturtevant Agency, a full service insurance and financial planning firm that provides business and residential coverage to clients throughout central New Mexico, is initiating a charity effort on behalf of Jasmine Mendoza and Meagan Rivas, two local mothers who have recently given birth to premature babies.
Jaydyn, daughter of Jasmine Mendoza, was born prematurely at 34 weeks. Due to complications arising from her birth, baby Jaydyn is now in critical condition. Alejandro, son of Meagan Rivas, was born at 26 weeks to due acute preeclampsia. As a result of this extremely premature birth, Alejandro has developed Respiratory Distress Syndrome and will need surgery for an inguinal hernia.
"Both of these babies desperately need our help, but if our community comes together to provide support to these new mothers we can make sure Jaydyn and Alejandro receive the best care possible," says Allen Sturtevant, founder and manager of Sturtevant Agency.
Sturtevant and his team are working to connect with business owners, families, and associates throughout the state over social media and email. As well, Sturtevant Agency will be producing a full page feature article that tells the stories of baby Jaydyn and baby Alejandro in the upcoming edition of "Our Hometown," a monthly online magazine published by the firm: http://www.sturtevantagency.com/Our-Hometown-Magazine_39.
Baby Jaydyn and baby Alejandro are only the first recipients of assistance from Sturtevant and his team. As part of a permanent community involvement plan called "Agents of Change," Sturtevant Agency will be selecting and working with another New Mexico-based charitable cause or nonprofit organization every sixty days.
Readers that want to join the Sturtevant team in the charity drive to assist baby Jaydyn and baby Alejandro are invited to make a personal contribution to the effort from the following page: http://www.sturtevantagency.com/Helping-Mothers-Provide-for-Their-Premature-Babies_12_community_cause. Readers that want to track new charities, causes, and nonprofit organizations supported by Sturtevant Agency in the future are invited to bookmark the Sturtevant Community Causes listing here:
http://www.sturtevantagency.com/community-cause.
About Sturtevant Agency
As a Personal Finance Representative in Albuquerque, agency owner Allen Sturtevant knows many local families. His knowledge and understanding of the people in his community ensures that clients of Sturtevant Agency are provided with an outstanding level of service. Allen and his team look forward to helping families protect the things that are most important - family, home, car and more. Sturtevant Agency also offers clients a preparation strategy for achieving their financial goals. To contact an expert at Sturtevant Agency, visit http://www.sturtevantagency.com/ or call (505) 344-5877.