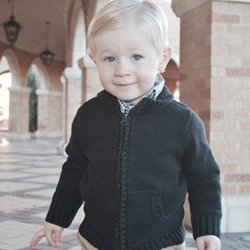 The Stiner family is doing everything they can to give their son his sight, and our agency is committed to helping them raise the funds they will need to pay for Ryder's surgery so he will have the ability to see the world
Canyon, TX (PRWEB) November 17, 2016
Vincent & Associates, a Texas-based firm providing insurance services and financial planning to families and business owners in and around the greater Amarillo region, is embarking on a charity drive to raise donations for the treatment of Ryder Stiner, a young local boy recently diagnosed with a debilitating ocular condition.
At only two months old, the Stiner family learned that Ryder was suffering from ocular albinism with nystagmus. At present, Ryder is legally blind, and initial test results led to doctors to believe that treatment would never reverse Ryder's condition. However, the Stiner family has now engaged Dr. Lingua, a specialist in Irvine, California, who has agreed to perform an operation that could restore Ryder's sight.
"The Stiner family is doing everything they can to give their son his sight, and our agency is committed to helping them raise the funds they will need to pay for Ryder's surgery so he will have the ability to see the world," says Kevin Vincent, founder and acting manager of Vincent & Associates.
Vincent and his team have launched a social media presence and an email communication system to gather assistance from supporters throughout Texas on behalf of young Ryder. Additionally, Vincent & Associates will be publishing a full page article on Ryder and his family in the next edition of the agency's online community interest magazine "Our Hometown": http://insuranceprofessionalstx.com/magazines/.
Ryder and his family are only the first of many charitable causes due to receive direct assistance from the Vincent & Associates team in the near term. As new members of a national charity affiliation movement called "Agents of Change," the Vincent team is committed to assisting even more Texas-based charities on a quarterly basis.
Readers that want to join the Vincent & Associates team and help raise support to restore Ryder Stiner's sight are personally invited to make an effort to support the charity event by following this link: http://insuranceprofessionalstx.com/causes/providing-little-ryder-eyesight-deserves/. Those who would like to keep track of the new charitable causes and nonprofit organizations supported by the Vincent & Associates team over the months to come are invited to bookmark the firm's Community Causes page: http://insuranceprofessionalstx.com/community/.
About Vincent & Associates
As a Personal Finance Representative in Amarillo, agency owner Kevin Vincent knows many local families. His knowledge and understanding of the people in his community ensures that clients of Vincent & Associates are provided with an outstanding level of service. Kevin and his team look forward to helping families protect the things that are most important - family, home, car and more. Vincent & Associates also offers clients a preparation strategy for achieving their financial goals. To contact an expert at Vincent & Associates, visit http://insuranceprofessionalstx.com/ or call (806) 655-4803 in Canyon or (806) 356-9491 in Amarillo.