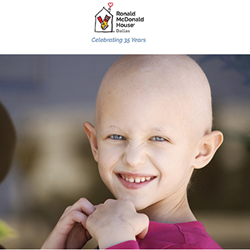 The Ronald McDonald House charity puts families first, and we're proud to be supporting a cause that remembers the importance of family during this holiday season
Flower Mound, TX (PRWEB) December 13, 2016
Dusty Wallace Insurance, an eastern Texas firm that provides insurance and financial consultation services to communities in and around the Dallas/Fort Worth region, is announcing the launch of a charity drive to raise awareness and support for the local chapter of the Ronald McDonald House.
The Ronald McDonald House family of charities offers temporary housing to the parents of sick and injured children receiving treatment in nearby medical facilities. Ronald McDonald House of Dallas currently offers more than 50 private apartments to families of hospitalized children, as well as six full-sized transplant apartments for families that require an extended stay.
"The Ronald McDonald House charity puts families first, and we're proud to be supporting a cause that remembers the importance of family during this holiday season," says Dusty Wallace, founder and acting president of Dusty Wallace Insurance.
The Wallace team has already begun to publicize the Ronald McDonald House charity event, starting with an online outreach program over social media and email channels to gather support from area families. Future efforts to publicize the charity drive will include a full length article on the Ronald McDonald House family of charities, scheduled for publication in the Dusty Wallace Insurance online magazine "Our Hometown": http://www.dustywallaceinsurance.com/Our-Hometown-Magazine_32.
Over the last year and a half, a dozen charitable organizations and nonprofit foundations operating in the Dallas/Fort Worth region have been directly supported by the Dusty Wallace Insurance team. Going forward, the team plans to continue their affiliation with the national "Agents of Change" charity support program by assisting new regional charities bimonthly.
All those who are interested in standing with Dusty Wallace Insurance and being part of the charity event to support the Dallas chapter of the Ronald McDonald House are encouraged to further the cause by visiting this page: http://www.dustywallaceinsurance.com/A-Home-Away-From-Home-For-Sick-Children_27_community_cause. More information on charity drives supported by the Dusty Wallace team in the past can be reviewed from the agency's Community Causes listing: http://www.dustywallaceinsurance.com/community-cause?page=1.
About Dusty Wallace Insurance
Serving from their office in Flower Mound, TX, Dusty Wallace Insurance is committed to bringing local communities an insurance agency that understands their needs. Dusty Wallace Insurance works with carriers to assemble a variety of products and services for its customers, including products a typical consumer needs (home, auto, boat, ATV, etc.), financial services products and tools (retirement, savings, long term care, disability, etc.), business insurance (liability, building, auto), and workplace and individual benefits (accident, critical illness, cancer, disability, life). Dusty Wallace Insurance covers all the bases for insurance needs in the Central Texas area. To speak with a helpful representative from Dusty Wallace Insurance, call (972) 539-7162.